If you've recently upgraded to the Samsung Galaxy S20 Ultra or are due to soon, you'll certainly want to keep your new handset protected and in pristine condition. With that in mind, we've put together  suggestions that will not only provide protection but also compliment the S20 Ultra's design.
---
1. Official Samsung Galaxy S20 Ultra Protective Cover Case
First up is the official Protective Cover Case from Samsung, which features a unique metallic look with a textured finish, which not only looks great but also provides much needed extra grip. This protective case is Military Drop Test certified to MIL-STD 810G – 516.7, which means the case has been extensively drop tested, without any damage being caused to your new Galaxy S20 Ultra. Moreover the case safeguards the S20 Ultra against scratches and knocks with ease. Available in black and silver, Samsung have  designed this case with a integrated kick-stand, ideal for watching media on the go.

2. UAG Monarch Samsung Galaxy S20 Ultra Case – Carbon Fibre
Known for their tough utilitarian designs, UAG create some of the most protective and rugged cases available on the market. Featuring an impressive five layer construction, the The Monarch Series ensures your Samsung Galaxy S20 Ultra is well protected against impact and shock. Additionally UAG cases are all military drop tested twice, so you can be assured your S20 Ultra will survive if it is dropped from a reasonable height. The UAG Monarch Case also features a raised lip around the edges of the case, meaning your S20 Ultra's screen will be safeguarded when placed on a flat surface.

3. Zizo Bolt Samsung Galaxy S20 Ultra Tough Case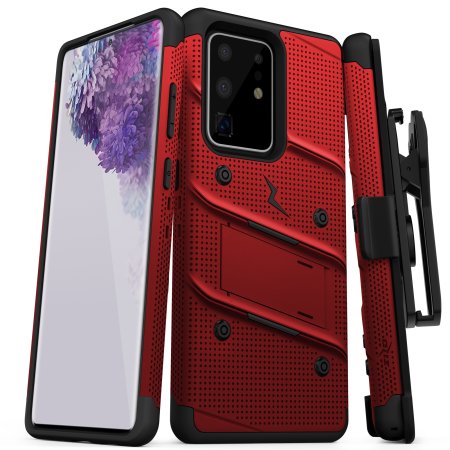 The Zizo Bolt Series is an ultra-rugged and protective case which combines a convenient belt clip and kickstand. This is another case which is Military Drop Test certified to MIL-STD 810G and so provides durable and tough all round protection for the Samsung S20 Ultra. Available in black, red and blue, the Bolt Series features a multi-layered design which compliments the S20 Ultra thanks to it's unique military inspired look.

4. Olixar ArmourDillo Samsung Galaxy S20 Ultra Protective Case – Blue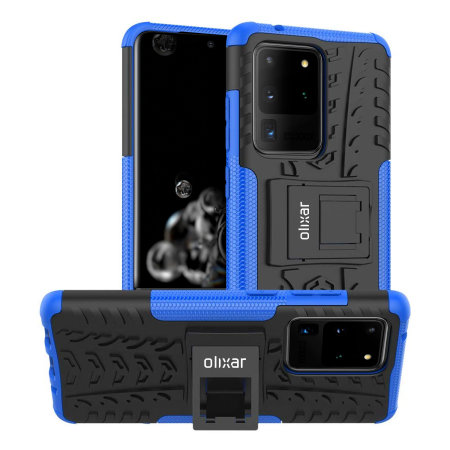 Aptly named the ArmourDillo, this Galaxy S20 Ultra case by Olixar provides excellent, whilst the textured back improves grip vastly. With a dual layered composition which combines TPU with an impact resistant polycarbonate exoskeleton, the case will prevent damage caused by impact from knocks and drops. Additionally, the the hybrid design enhances protection around the corners, which are often the most vulnerable areas. Available in black and blue.

5. Otterbox Defender Samsung Galaxy S20 Ultra Case – Black

Unlike the other suggestions in this article, the OtterBox Defender bears a much more simple and minimalist design, which has been a long standing in the OtterBox rang. Although an overall slim case, the Defender is still one of the toughest and most protective cases available. Consisting of multiple layers; a solid inner polycarbonate shell and an outer silicone skin, the case protects against drops, bumps and shock.

---
Wrapping up
Thanks for reading this article – we hope you found this article useful! If you'd like to see a wider range of protective cases and covers for the Samsung Galaxy S20 Ultra, please click here. Additionally if you'd like to add further protection to your S20 Ultra by means of a screen protector, please click here. Thanks again!