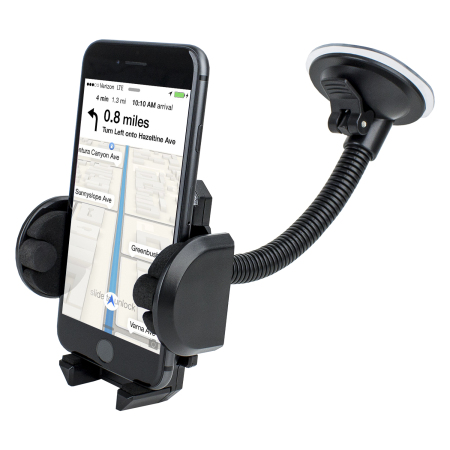 Which car phone holder is the right one for you? Let's find out, together. In this guide, we'll share some of the most important things to know when choosing your perfect car phone holder. That includes the different types or form factors on offer, some clever features to look out for and a selection of three of our absolute favourites. Let's get right into it!
Types of car phone holder
So what kind of car holder is right for you? Probably the first thing to narrow it down is to choose where you want to put your phone. Windscreen and dashboard car holders are traditionally the most common options, but air vents holders and CD slot holders are gaining popularity. Headrest car holders are the perfect choice for entertaining backseat passengers. If you know which one you want, choose it from the options below!
Car phone holder features
There are also a range of features that you should consider before buying. Do you have a tablet or a very large smartphone that might need a specialised holder? Do you want a magnetic system that works extremely quickly but requires sticking a magnetic pad to your phone case? Is cable management an issue? Take a look and see for yourself!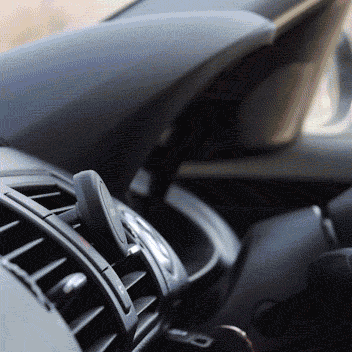 Magnetic car holders let you attach and remove your phone extremely rapidly, saving time and hassle. Generally, they work by sticking a small (and removable) magnetic pad to the back of your phone or case.
Tablet car holders are those designed for tablets rather than smartphones. While headrest car holders are the most common place you'll find tablet compatibility, you can also find other form factors with this capability.
Cable clip car holders provide a space for your cables to rest while your smartphone isn't in the car holder, making it easier to charge your phone or connect it to your car stereo once your phone is back in place.
Our favourite car holders
It's easy to feel a little overwhelmed with all the options in front of you. To help, we've narrowed down our range of dozens of car holders to just three recommendations. Take a look and choose your favourite!
Olixar inVent Mini Portable Air Vent Smartphone Holder
This clever car holder clings onto your car's vents, allowing you to place your phone within easy sight without blocking your view of the road. The expanding jaws of the holder allow it to be used with a wide range of smartphones between 55mm and 90mm in size, including the iPhone and Android phones, even with cases fitted. The soft rubberised mounting clip works with all kinds of air vents of different sizes, shapes and positions, and doesn't leave a mark. This car holder is also super small, allowing you to take it with you in your pocket when you swap cars or pick up a rental. It's easy to see why What Car? named this in their best phone car holders of 2017.
Official Samsung Universal Vehicle Dock Windscreen Mount

Apart from making best-selling smartphones, Samsung are also known for the quality of their accessories. Their official universal vehicle dock is a great fit for tons of smartphones, not just Samsung ones, with a stylish design, rock-steady grip and a choice of both windscreen and dashboard mounting. The dock accommodates phones up to 83mm wide, and features a ball joint that allows for both portrait and landscape orientations plus anything in between. If you're not sure which car holder to pick, you won't regret going with the the real McCoy.
Olixar Tree Frog Ultra-Grip Dashboard Pad

This unique solution is a pad, placed on the dashboard, which uses densely textured silicone to hold items in place without clamps, magnets or adhesives. This grippy texture clings to the back of your smartphone, holding it in place on your dashboard to ensure your phone is both easily readable and out of the way so it doesn't block your view of the road. The Tree Frog is easy to install and easy to remove, making it easy to find the perfect position.
Wrapping up
Thanks for checking out the article. If you have any questions or comments, feel free to write them below! We're always looking to improve the quality of our articles, so getting in touch would really help us out. Thanks again and have a great day.