Since the Galaxy Note 5 and the Galaxy S6, Samsung phones have supported so-called Adaptive Fast Charging. With the proper adapter, that means you can charge your phones faster than ever before, without wearing out your battery or making your phone too hot. In this article, we'll tell you everything you need to know about choosing the right Samsung fast charger.
---
What makes it fast?
Good question! Samsung Adaptive Fast Chargers are faster because they operate at a higher Amperage and Wattage than standard chargers. That means more power is going down the cable every second, so your phone's battery will be replenished faster.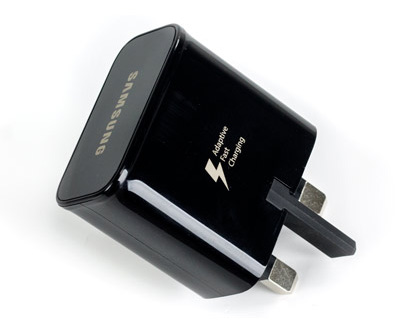 For example, a standard smartphone charger might offer 1A charging at 5V, making it a 5W charger. The latest Samsung Adaptive Fast Chargers, on the other hand, will provide 2A at 5V, for 10W of charging power, or 1.67A at 9V, giving you 15W. This higher wattage ensures faster charging and less time waiting around!
However, in order to accept this higher rate of power transfer, the smartphone needs to have the appropriate circuitry and software to handle it. That's why Samsung Adaptive Fast Chargers will only work with certain smartphones.
---
Compatibility
Samsung Adaptive Fast Charging is officially supported on the Galaxy Note 5 through 8, the Galaxy S6 through S9 and the Galaxy A7 and A8 (2017 – 2018). Other smartphones will also work fine with Samsung Adaptive Fast Chargers, but may not support faster charging speeds. You can always experiment to find out!
---
Is Samsung Adaptive Fast Charge the same as Qualcomm Quick Charge?
What's the difference between Samsung Adaptive Fast Charge and Qualcomm Quick Charge? Well, Samsung's standard is based on Qualcomm's standard. That means Samsung phones that support Adaptive Fast Charging should also be able to use Qualcomm Quick Charge chargers.
---
Recommended products
Samsung Adaptive Fast Chargers are available as mains chargers (that plug into the wall) and car chargers (that plug into your car's lighter socket). You can see all Samsung Fast Chargers, or check out our three recommendations below!
Samsung Adaptive Fast Mains Charger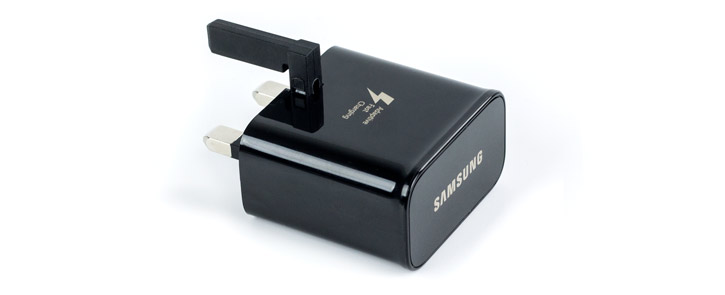 This is the Adaptive Fast Charger that Samsung have provided in the box with their Samsung flagship phones since 2015. It provides fast charging and has a sensible design that packs itself up for easy portability, when you're taking your phone on trips.
Shop for the Samsung Fast Mains Charger >
Samsung Adaptive Fast Car Charger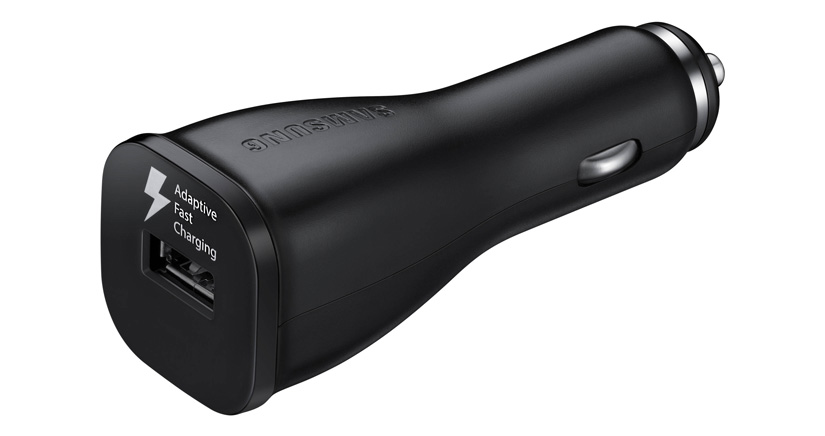 This sleek car charger provides rapid charging for compatible Samsung phones with minimal fuss. The small size of this charger makes it easy to carry with you when needed, and the streamlined design ensures it doesn't draw the eye or look messy when left plugging into your car. This is the perfect accessory for keeping your phone charged while you're using GPS navigation and other in-car functions. Remember to pick up a car holder that fits your phone too!
Shop for the Samsung Fast Car Charger >
Samsung Fast Charging 2-in-1 Pack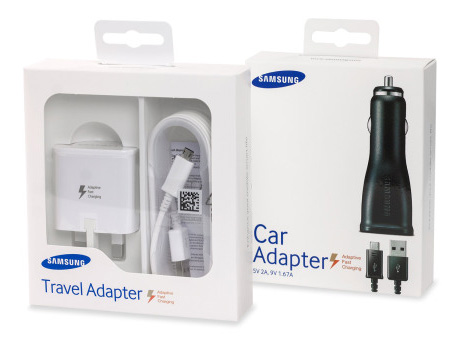 This 2-in-1 pack comes with a Samsung Adaptive Fast Charger for your car and your house, letting you allow fast charge times no matter where you are. Of course, these genuine Samsung products will provide perfect results each time and fit your phone's style too.
Shop for the Samsung Fast Charging 2-in-1 Pack >
---
Wrapping up
Thanks for checking out the article. If you have any questions or comments, feel free to leave them below! We're always looking to improve our articles, so don't be shy about getting in touch. Thanks again and have a great day!