The Galaxy A8 (2018) is a brilliant mid-range choice that combines some flagship features from Samsung's high-end phones with slightly reduced specs and an approachable price point. Here are our favourite protective cases for the Galaxy A8 (2018), including stylish options, the best protective cases and tons of practical choices!
Last updated: March 8th 2018
---

The Spigen Liquid Air case is a great place to begin our roundup. The Liquid Air Case provides a good combination of a protection and style, with a soft touch design that feels nice in your hand. Like all but one of the cases in this top 10 list, the Liquid Air is made just for the Galaxy A8 (2018) and as such includes easy access to all ports and features with cutouts throughout. The Liquid Air is also a very lightweight case, befitting the modern design of the A8!
---

Next up is an official case from Samsung; the Clear Cover. This case, as the name suggests, provides a clear yet protective wrap for your Galaxy A8 (2018) to keep it in good condition without covering up the phone. The case is a little pricey compared to some of the other clear cases we'll see later, but you do get great build quality and a perfect fit throughout.
---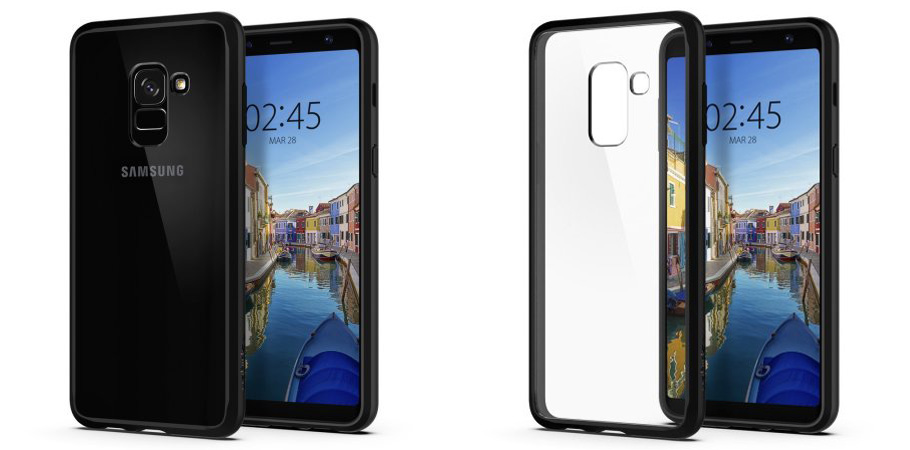 Another great Spigen case worth considering is this one, the Ultra Hybrid. This bumper includes a clear back panel to keep your phone scratch-free, while the rubberised bumper prevents damage from drops and knocks. This is further enhanced by air cushion technology in each corner, which helps to deaden the impact of drops to help your phone survive. We also love this case's sleek design, which makes your A8 look quite svelte and stylish.
---

The Primo is a great option for almost any phone, and that's true as well for the Galaxy A8 (2018). The Primo is a wallet made from genuine leather, providing a soft yet rugged look and feel. The case includes a pouch for your phone on the left side, while your ID, cards and cash can rest on the right. It's a practical combination that works well in a range of situations, making this an easy recommendation.
---
The Prefix is a classic Otterbox design that's seeing new life in 2018. The case provides excellent protection from drops and knocks, with a reinforced rubberised bumper that helps to absorb the force of impacts. This is a clear case, as you might have noticed, and you'll be able to really show off your phone with this case installed. The Prefix is a few quid more expensive than the official Samsung case, but given the improvement in protection I'd say it's well worth it to go for the third-party option.
---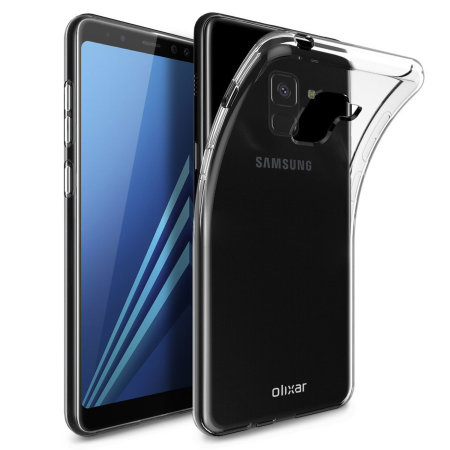 We enter the top five with this budget clear case from Olixar. This is the perfect case to choose if you want nominal protection for your phone, without needing to spend loads of money or entomb your A8 in a thick or heavy case that will make your phone feel sluggish. This custom-moulded case provides a slim-fitting design and easy installation too, courtesy of its flexible design. There's even a raised bezel to protect the screen from scratches and other direct hits. Finally, the transparent case provides a perfect way to show off your phone without the dangers of going caseless!
---

This armoured case provides incredible protection against drops and knocks, preventing damage to the A8 (2018) inside. The case includes shock absorbing corners, a lip around the screen to prevent screen damage and even a kick-out flipstand that makes it easier to watch videos in those dull moments on trains and planes. The case meets military standards for drop protection and should survive almost anything you throw at it it. With hardcore cases like this, it's easy to see why Spigen has become such a trusted name in cases and accessories.
---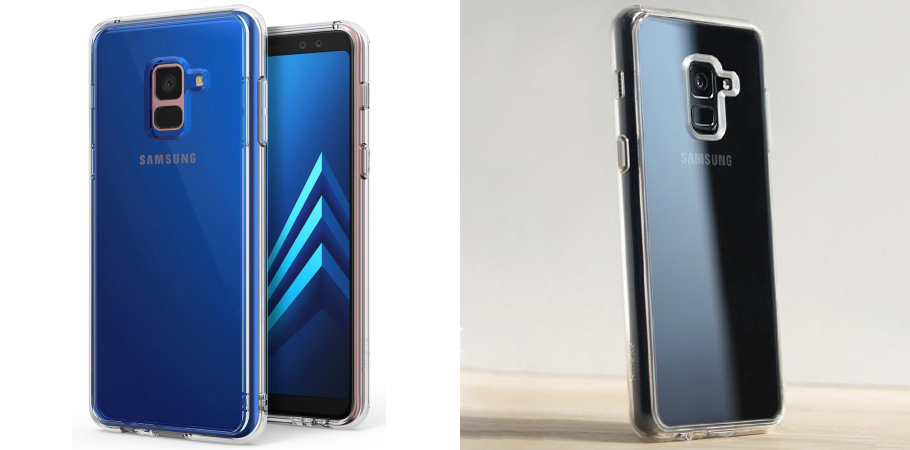 This clever case is built from a combination of hard polycarbonate and flexible TPU, with the dual layers providing better protection than either material can alone. The case includes a clear back and sides, making it easier to see your phone within, while a lip around the screen prevents damage there. The TPU bumper also helps to keep your phone in your hand and on your next — no slips here! All in all, a strong all-around choice.
---

The Neo Hybrid is one of Spigen's best cases, thanks to its dual-layer design that combines soft TPU and harder polycarbonate plastics. The case is stylish too, with a two-tone design that elevates the A8 (2018) to a new rugged look. The case provides good grip to prevent drops, while a lip around the screen helps to prevent damage even if a drop does occur. For all of its protective credentials, the Neo Hybrid is also a surprisingly slim and lightweight case, giving it few weaknesses.
---

We conclude with another official case from Samsung: the Neon Flip Case! This case is available in four beautiful colours, providing the perfect accompaniment to your Galaxy A8 (2018). This stylish case is also practical, with good protection provided by the flip cover and convenient sleep/wake functionality. It also includes an orange neon edge, which lights up to keep you informed of incoming calls, messages and other notifications. You're sure to be happy with the Neon Flip Case, so give it a go and let us know what you think!
---
Wrapping up
Thanks for checking out the article! For more information, check out our full range of Galaxy A8 (2018) cases right here. If you have any questions, we'd be happy to answer them in the comments below. You can also find us online on Twitter (@mobilefun) and on Facebook (facebook.com/loveyourmobile). Thanks again for joining us and we'll catch you on the next one!