Like their predecessors, the Samsung Galaxy S9 and S9 Plus have a multitude of ways to connect to televisions, projectors and monitors.
Here are the top five ways you can mirror your screen or play videos on the biggest screen in the room — including both wired S9 accessories and wireless alternatives. Let's get started!
Part 1: Wired methods
These methods use Galaxy S9 and S9+ accessories, providing the best image quality and easy setup.
1. The simplest and easiest option: USB-C to HDMI 4K adapter
The quickest and easiest way to connect your Galaxy S9 to your  TV is to use the Olixar USB-C to HDMI 4K Adapter. This is super simple to use – plug one end of the adapter into your Galaxy S9, and the other end into an HDMI cable that's connected to your TV. The S9 will immediately recognise it's been plugged into a display, and will start mirroring the screen using its DisplayPort over USB Type-C protocol. This works up to 4K resolution at a refresh rate of 60Hz, and also includes up to 7.1 surround sound.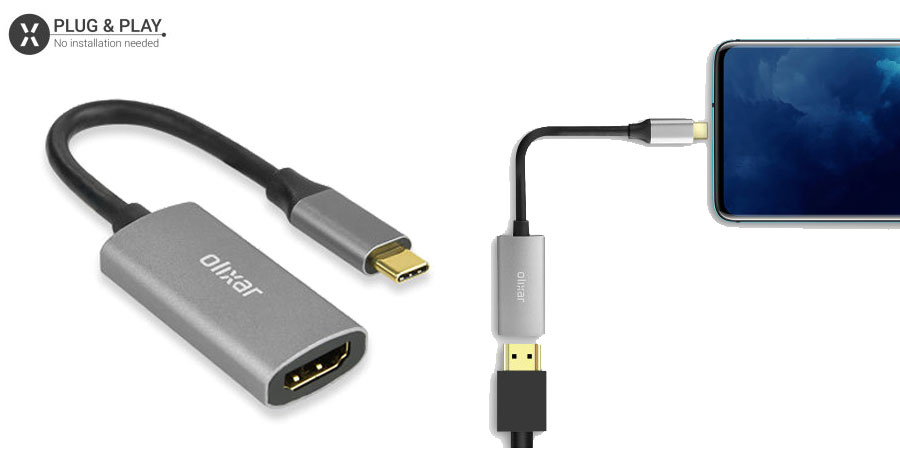 There are a range of
USB-C to HDMI adapters
on the market that will do the job, so we recommend you go with the
Olixar USB-C to HDMI 4K Adapter
.
2. A longer-lasting option: USB-C to HDMI plus power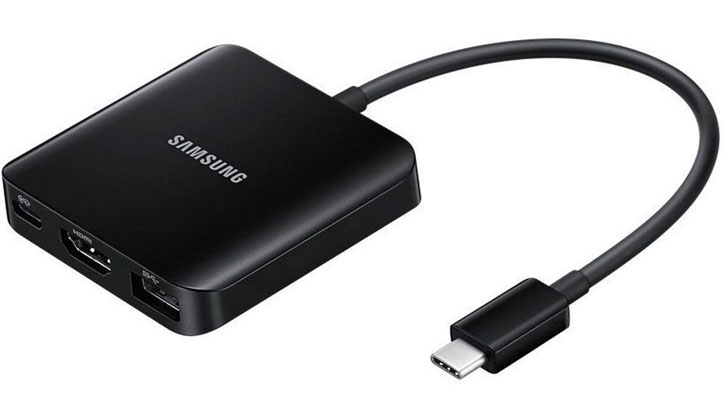 You can also get a multiport USB hub, which includes a place to plug in peripherals and can charge your phone at the same time. For this, we recommend Samsung's official Multiport USB-C to HDMI adapter.
3. The ultimate upgrade: Samsung DeX & DeX Pad
The next level is Samsung's DeX, which first appeared last year with the Galaxy S8 and S8 Plus. This unique accessory allows you to plug your S9 or S9 Plus into a monitor, as well as giving you space for USB peripherals like a mouse and keyboard. Once everything's plugged in, the S9 will activate DeX mode. That gives you a computer-style desktop, complete with Android apps running in windows, desktop versions of websites through the Samsung browser and more. You can even use desktop-style versions of Microsoft Office. If you're connecting your S9 to a bigger display to get work done, this is the perfect way to do it.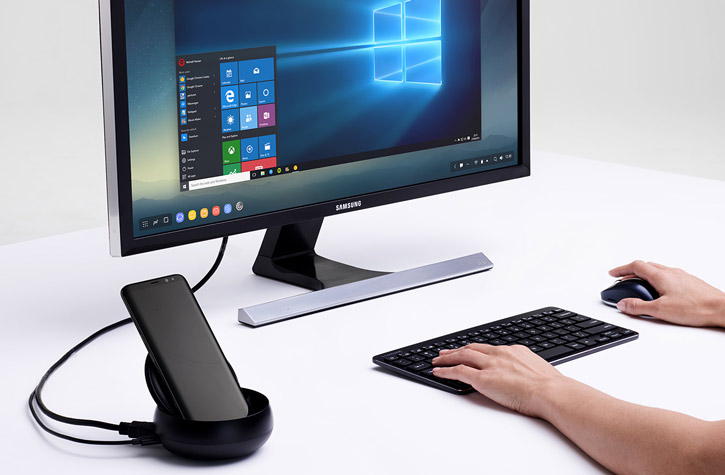 The Galaxy S9 and S9 Plus are joined by a new version of DeX for 2018: the DeX Pad. The Pad works similarly to the classic version of DeX, allowing access to the DeX desktop software, while relaxing the requirements for an attached keyboard and mouse and allowing your phone to lie flat. This a more convenient solution for mobile use, requiring just a nearby screen — perfect for hotel rooms or conference centres.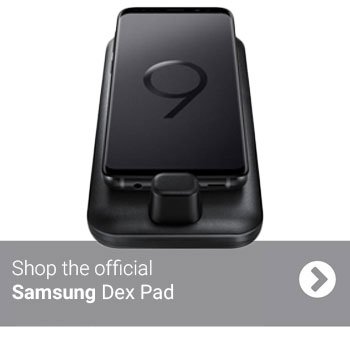 Part 2: Wireless methods
These methods don't require wires, but may involve some sacrifices in image quality and aren't compatible with all TVs.
4. MiraCast
Samsung supports the Miracast standard for wireless mirroring of your smartphone. Pull down the notification shade on the top of your phone, then choose Samsung Connect. From here, select your TV from the list of options provided. If your TV doesn't show up initially, go down to 'Add device manually', select TV, and follow the instructions.
You can also try pulling down the notification shade, pulling down again to see quick settings, then swiping to the left to see the next page of toggles. Select Smart View, then select your TV or Miracast dongle from the list of options provided.
You're limited to 1080p at 30 frames per second when using Miracast, but you don't need to use any wires to set things up. For higher quality, wired methods (above) can be worthwhile.
5. Chromecast
Google's Chromecast is another great option for connecting your TV to the Galaxy S9 or S9 Plus. Chromecast is widely supported by the biggest Android apps, allowing you to stream video directly from its source (e.g. YouTube, Spotify) to the Chromecast without having to go via your smartphone. That makes for better quality streaming and allows you to use your phone for other things while you're watching something! Just use the Google Home app to set up the Chromecast, then find the cast icon to get started. You can also mirror your screen directly from inside the Home app, for apps that don't support Chromecast directly.
Wrapping up
We hope that this guide to connecting the Galaxy S9 and S9 Plus to your TV has been helpful. If you have any further questions, or if you'd like to suggest a way in which we can improve this article, please get in touch via the comments below. You can also talk to us on Twitter @mobilefun or on Facebook at Mobile Fun. Thanks for checking out the article and we'll see you in the next one!