The Samsung Galaxy S8 Plus is still months away from release, but we're starting to see an increasing number of leaks emerge from accessory makers and manufacturing partners.
We received these heretofore unseen renders earlier today from an unnamed case maker in China, and they show considerable details about what to expect from the phone. Let's take a look!

Firstly we can see that the button layout has changed, with the addition of a new button on the left below the volume rocker. This should activate Bixby, Samsung's new AI assistant and a key feature of the Galaxy S8. The lock button remains intact on the right hand side, about midway down the phone.

There's a USB-C port on the bottom of the phone, with a slightly wider aperture in the case than we'd expect for Micro USB. The headphone jack also remains in place, will be a relief to music fans that cursed Apple and other manufacturers after removing the once-ubiquitous headphone jack from their recent flagship phones.
The opening for the rear camera is also particularly wide, with space for a dual-camera system that has been rumoured for the Galaxy S8 Plus. However, small imprints on some of the renders below seem to indicate that a large single camera with a flash unit to the left hand side could also be expected.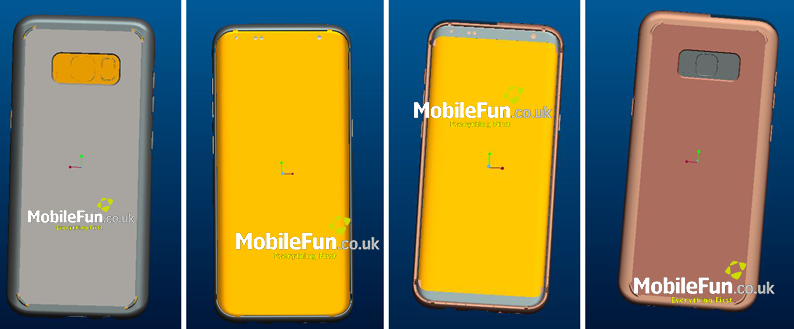 Finally we look at the front of the phone, and we can see the incredibly skinny top and bottom bezels that have made an appearance in other renders. These leave no room for capacitive or physical buttons, so Samsung will instead rely on software keys. The fingerprint reader has also disappeared, and is expected to be lurking beneath the glass thanks to a novel solution from touch technology firm Synaptics.
What details did you spot in these renders? Do you think they're accurate? Let us know in the comments below, or write to us on Twitter @mobilefun!