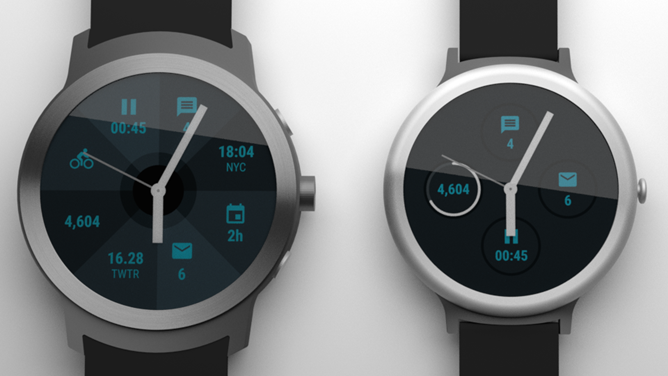 Update: AP have since published their own renders of the watches, shown above.
Android Police are on a roll. After revealing specs for Marlin and Sailfish, the two upcoming HTC Nexus phones, and revealing the first render of these phones, the American publication has returned to spill the details on something else: Google's first self-built Android Wear smartwatches.
The big, standalone one: Angelfish
So — there are two rumoured Google smartwatches. The first is codenamed Angelfish, and it has a full circular display (no Moto 360 'flat tire' here) and full standalone capabilities: GPS, LTE, a large battery and a heart-rate monitor. Here's Android Police describing the design:
[Angelfish] has visible lugs, with a smooth housing shape that curves where the watch band meets the body… This gives the watch a subdued but sporty look. Angelfish has three buttons. Looking at the watch face, one large circular crown button is centered along the right side of the body, with two smaller and shorter circular buttons above and below it.

Angelfish is quite thick, at over 14mm in cross-section (around the same as the Urbane LTE), likely owing to a larger battery necessitated by its LTE-ready chipset. The watch's diameter is allegedly 43.5mm, making it substantially smaller than the "large" 46mm Moto 360, but still a bit bigger than the standard 42mm edition. We believe it will come in a matte dark gray finish that may be called "titanium".
The little, dependent one: Swordfish
The second watch is codenamed Swordfish. It's a smaller phone, again with a full circular display, and apparently resembles the Pebble Time Round but with a much smaller bezel and a different button arrangement. There's a single button of a style similar to that of the Apple Watch's digital crown. The watch has a body diameter of 42mm and a thickness of 10.6mm (0.8mm thinner than the Moto 360). Unlike Angelfish, the smaller watch will support Google's interchangeable MODE watchbands, which were revealed earlier this year at Google I/O.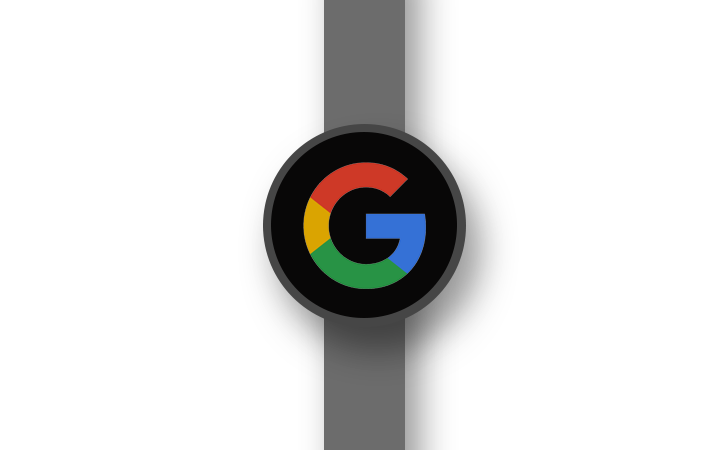 Common features
Both smartwatches will have Google Assistant, the AI which was also announced at I/O. That includes contextual alerts, and could include some exclusive features not afforded to other Android Wear devices. The watches should also come with 'new-style watch faces', which allow immediate access to notifications, apps, information (as you'd find on the Apple Watch via Complications).
So far we don't know how long these smartwatches are to release. The obvious guess is that they'll be announced alongside the new Nexus phones, but it's still up in the air. Android Police rate their confidence in these smartwatches at 9 of 10, so presumably we will see them before the year is out.
Wrapping up
What do you think of these rumoured Google smartwatches? Would you go for the larger standalone-capable Angelfish or the smaller Swordfish? Let us know in the comments below.
(n.b. The graphic shown above is fairly obviously not a render or a photo; it's just a fabrication made by Android Police as a cover image.)