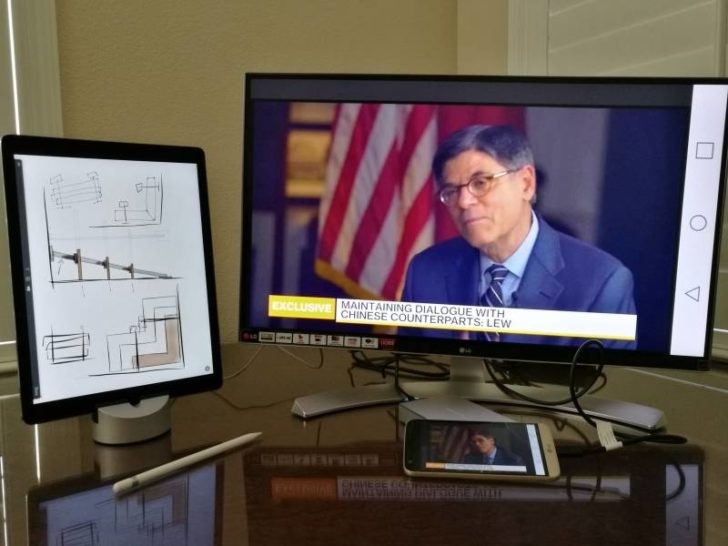 USB-C cables are pretty cool for tons of reasons, and one of those reasons is that it allows for so much over a single cable — data, power, video, audio. It supports the DisplayPort standard for video, so if you find a monitor with a USB-C port, you can mirror your display (and charge your phone at the same time) using a single USB-C to USB-C cable.
This week Android Police reported that this feature of USB-C allows the LG G5 smartphone to connect to LG's most recent 4K monitor (the 27UD88-W) using the USB-C to USB-C cable that comes with the monitor. Once connected, the phone's display is mirrored to the monitor, and certain audio and video apps will make only the content show up on the screen, giving you always-on playback controls on the G5's screen. The monitor also recharges the LG G5. It's a very sensible solution, and way simpler than using DisplayPort or SlimPort.
This should work across all monitors with USB-C ports, but we don't have a USB-C monitor to test this ourselves — and this LG monitor is a little pricey at the moment. We're also not sure if the HTC 10, OnePlus 3 or other USB-C smartphones will work in the same way — perhaps this functionality is unique to the G5. Either way, we should start to see more USB-C phones, tablets, TVs and monitors in the future, so it should just be a matter of time before this is the go-to setup for mobile mirroring.
If you have a monitor with USB-C and a smartphone with USB-C, try connecting the two with a USB-C to USB-C cable and let us know what happens!
Thanks for checking out the article, and stay tuned for more excited USB-C articles in the future, as we continue to find out cool things that are possible from the new tech.