American firm SquareTrade recently tested the iPhone SE in a series of durability tests, to see how the new four-inch model stands up to abuse compared to its peers. Surprisingly, the phone is one of the worst ever iPhones when it comes to survivability, despite its robust appearance and small size.
The iPhone SE starts off strong, recording good results for gripability and weight in the tests, but things quickly turn sour. The phone dies immediately when being placed in water (although this is somewhat expected given its lack of a water resistance rating), suffers extreme damage when dropped on its corner, and fares only slightly better when dropped face down. The smaller iPhone is also more malleable than its peers, with a worse bendability score than either the 6S or 6S Plus. The SE does gain a few points back in the tumble test, but ultimately is graded 'medium risk' with its 5.5 score. That's a point clear of the iPhone 6S Plus, but 1.5 points behind the iPhone 6S.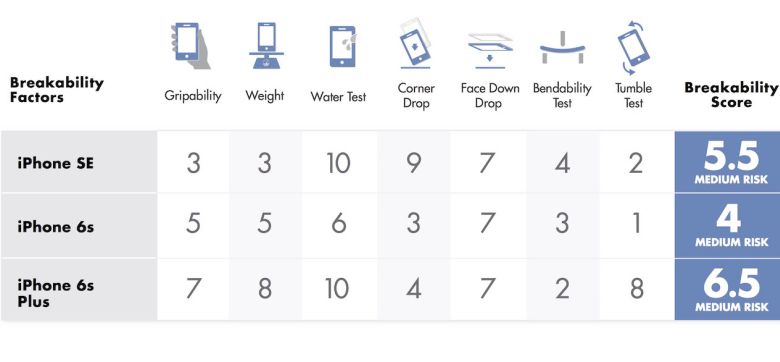 The lesson here? Use a case with the iPhone SE. That corner drop score of 9 / 10 is particularly alarming, almost guaranteeing a cracked screen or worse with a sufficiently high drop. If you're near water often (or just have a history of accidentally giving phones a watery grave), then a waterproof case could also be a good idea, given how immediately the iPhone will die if wet.
Thankfully, you're already on a site with plenty of iPhone SE cases to choose from of all shapes and sizes. Check out our selection via the buttons below, and keep your iPhone SE in pristine condition!