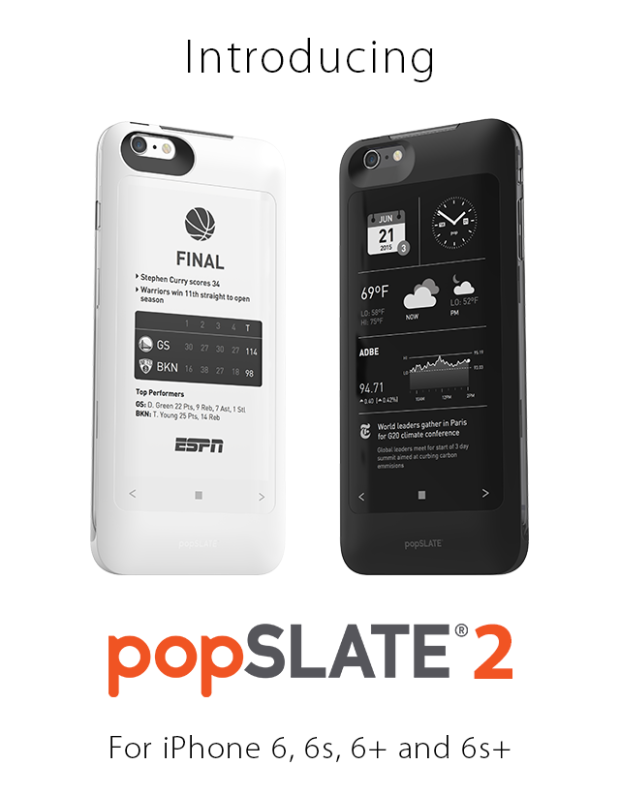 Here's a cool idea: an e-ink phone case. Slap an e-ink display on the back of a protective case, and you suddenly get to use all that previously empty space for something actually useful — seeing notifications, reading books or checking off your shopping list. Best of all, even if you read for hours, you'll barely touch your phone's battery life, because e-ink screens are so power-efficient. In fact, you could even fit in a small battery and use that to charge your phone. That's exactly what Popslate have done with their latest case, and it's coming soon. Let's take a look.
The Popslate 2 is a battery case for the iPhone 6S and 6S Plus, with generously curved edges that make it comfortable to hold and a slim design that only adds four millimetres to your iPhone's thickness. Its high resolution e-ink display (4.3 inches on the iPhone 6S, 4.7 inches on the iPhone 6S Plus) measures 200 dpi, almost double that of its predecessor, so text is clear and images don't look too grainy (although they are of course black-and-white).
You can swap through five apps using capacitive buttons below the screen, as well as seeing notifications as they appear without turning on your iPhone's screen. You can show off an image of your choice, see a giant monochrome clock or read e-books. There are also apps for seeing your Apple Wallet's cards or boarding passes, reading through the headlines or ticking off to-do lists.
The Popslate 2 charges your iPhone over its Lightning connector, adding nine hours of talk time and five hours of web browsing. The case itself also charges over Lightning; the first-generation model charged over Micro USB which meant you needed to keep another cable around.
The Popslate 2 is currently on Indiegogo, where's it's already raised over $317,000 from nearly 4,000 backers with a month to go. You can order a case for $69, with $20 extra for international shipping. That's about £63, not taking into account any customs fees.
What do you think of the case? Let us know in the comments below, and feel free to write to us on Twitter or Facebook too.