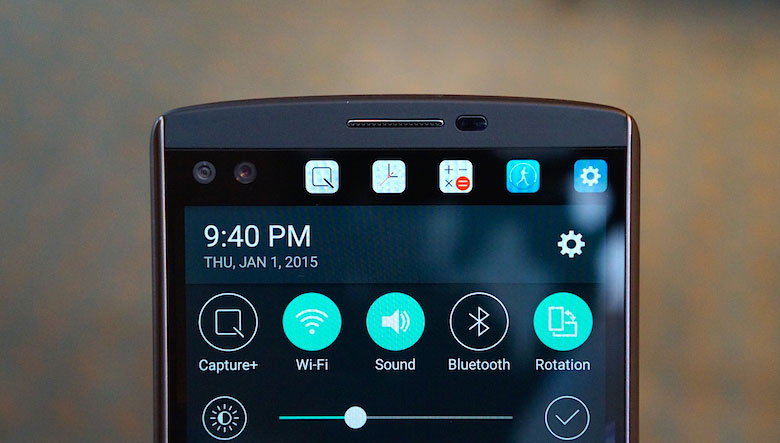 LG's flagship G4 was one of the best phones of 2015, offering a novel design, slick software and top-notch performance. Next year's G5 looks like an absolute beast too, according to new information received by Venture Beat's Evan Blass.
Super specs
The LG G5 will combine elements from past G series handsets as well as the V10, the company's late-2015 flagship. The most obvious contribution from the V10 is a secondary 'ticker' display, which sits directly above the G5's 5.3-inch 2560 x 1440 display. The ticker, which runs at a resolution of 160 x 1040, will actually be present across a range of LG's phones in 2016.
Inside the G5's metal body, you'll find Qualcomm's latest Snapdragon 820 chipset. This will be backed by 3GB of RAM and 32GB of internal storage, and powered by a modest 2800mAh battery, 200mAh smaller than the G4. No micro SD card storage has yet been confirmed, but LG have used this as an important differentiator with the G4 so it ought to be included.
Cool new hardware
The camera setup is interesting too, including a dual-lens system on the rear that allows the 16-megapixel sensor to capture a wide angle 135 degrees shot. Between the two lenses, there are twin LED flashes, a laser autofocus and an RGB sensor for further improving autofocus. The front camera will switch to a single 8-megapixel sensor, although its aperture is not known.
The G5 will include a fingerprint scanner on the back of the phone, a position that became more popular recently with the release of the Nexus 6P and 5X.
Perhaps the weirdest inclusion is the phone's Magic Slot, a kind of receptacle for adding new hardware modules. For example, you could a physical keyboard, VR-focused 360 degree cameras or an audio amplifier. It's a cool addition, and it should definitely set the G5 apart from its competitors if the modules are well designed and implemented.
Your phone in 2016?
What do you think of the LG G5? If it has all these features, would you buy one? Let me know in the comments below!