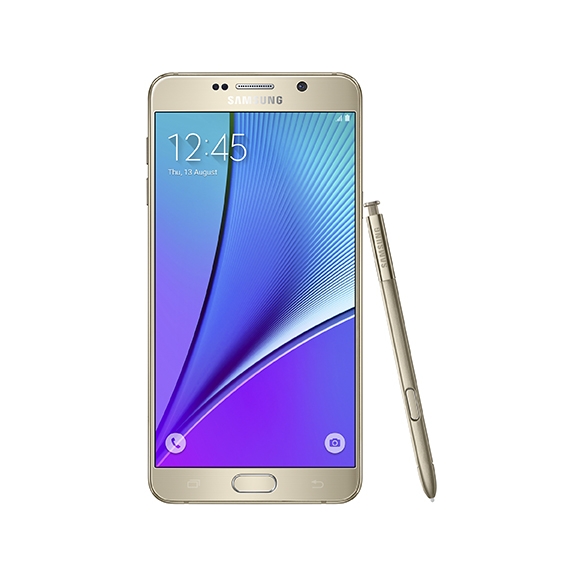 Samsung unveiled its latest handsets on Thursday, a pair of 5.7-inch devices aimed at the top end of the market. We've already taken a closer look at the Samsung Galaxy S6 Edge Plus, so let's look at the other that Samsung announced: the Galaxy Note 5.
The Galaxy Note 5 is the latest in Samsung's line of stylus-equipped phablets. Like the Galaxy S6 Edge Plus (and the two S6 phones that our favourite Korean chaebol announced earlier this year), it has a slim body made of out metal and glass. It's curved, like the Edge models, but it has its curve on the back instead of the front. The Note 5 is 7.6mm thick, but still packs in a 3000mAh (non-removable) battery which can now be wirelessly charged (at rapid speeds!) for the first time.
The new Note is also a hardy performer, coming with the same octa-core Exynos 7420 chipset as the S6 and its family members. This is backed with 32 or 64GB of storage (with no Micro SD card slot), and 4GB of RAM. It's a powerful loadout that should let it stand toe to toe with any other phone on the market.
The camera situation is also impressive, with a 16-megapixel shooter on the rear and a 5-megapixel unit up front. Video recording has been improved with the inclusion of VDIS stablisation, which should make movies appear more stable and less shaky, particularly while moving.
On the software front, we're looking at largely the same OS as shipped on the S6 phones earlier this year – a slimmed down TouchWiz UI, closer to stock Android than ever before and this time based on Android 5.1.1 Lollipop. The OS still includes a few of Samsung's weird modes and features to try out, though, lest you be disappointed at the lack of gimmicks.
One feature doesn't look to be a gimmick though – Samsung Pay. The new payment service rivals those from Apple and Google, but has an important advantage over them. As well as supporting NFC (contactless) payments, Samsung Pay can also mimic the magnetic signature of your card, allowing it to be used on the millions of card stripe readers at businesses across the world. As NFC is still slowly spreading across the world, Samsung's magnetic capabilities might leave other payment systems dead in the water.
The S Pen stylus that defines the Note line has also seen improvements. It is now spring-loaded, letting you release it with a click instead of pulling it out with your fingernail.
Samsung is also offering some new Note 5 accessories, including a special keyboard cover that brings the look and feel of a traditional QWERTY keyboard to the Note 5. It's yet to be seen whether it will offer as good an experience as a true built-in keyboard, but it's a nice nod from Samsung towards classic smartphone fans.
So the Note 5 looks like a great phone – a modern design, powerful hardware, interesting features and svelte software. What's the catch? The catch is a weird one for Samsung: availability.
The Note 5 won't ship in Europe at all this year, only launching in the United States, South Korea and a few other select markets. That's likely down to Samsung's earlier release of the phone this year, a strategy that is aimed to carve out space from Apple's iPhone launch window in mid-September.
What do you think of the Note 5? Do you want it in the UK? Let us know in the comments below!