One of the best innovations to come from the latest Qualcomm processors is also one of the least known. It's called Quick Charge 2.0 (or 'adaptive fast charging'), and it allows for dramatically faster charging than its predecessors. Here's what you need to know!
How does it work?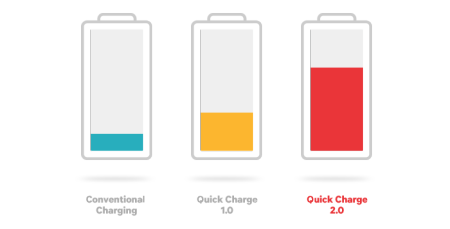 By using a 9V current instead of 5V, you can achieve charging speeds up to 75% faster than a conventional charger. In just 30 minutes of charging, you can go from 0 to 60% of a large 3300 mAh battery; a conventional charger would only be able to charge 12% in that time, and even Quick Charge 1.0 would only reach 30%.
What do I need?
In order to unlock these rapid charging speeds, you'll need a device that supports Quick Charge 2.0 and a certified charger. You can see our full range of Qualcomm Quick Charge 2.0 chargers right here. Each is capable of full speed charging at 2A and 9V.
What phones and tablets are supported?
You'll need a recent high-end Qualcomm processor, including the Snapdragon 801 (2014), Snapdragon 808 (2015) and Snapdragon 810 (2015). Device manufacturers decide whether Quick Charge 2.0 will be supported, but generally they do opt for its inclusion.
Asus: Transformer T100, Zenfone 2
Google: Nexus 6
HTC: One M8, One M9
LeTV: One Max, One Pro
LG: G Flex2, G4
Motorola: Moto X (2014), Droid Turbo
Samsung: Galaxy S6, Galaxy S6 Edge, Note 4, Note Edge
Sony: Xperia Z3, Z3 Tablet, Z4, Z4 Tablet
Xiomi: Mi 3, Mi 4, Mi Note, Mi Note Pro
Yota: Phone 2
Qualcomm keep an updated list of supported devices here. If you don't see your phone listed, you could also ask in the comments below, or on Twitter @mobilefun!
Thanks for reading, and I hope this helped!