Like other iPhones, the iPhone 6 starts out with great battery life, but over time it seems to get worse and worse. While it is possible to get a costly battery replacement from Apple, you do have some alternatives to improving your iPhone 6's battery life.

Hardware fixes
There are plenty of battery-life-extending accessories on the market, which can allow you to get much more battery life without turning off features on your iPhone.
Pick up an iPhone 6 battery case
One of the easiest and most dependable ways to improve your battery life is to pick up an iPhone 6 battery case. These cases combine protection with an internal battery that can double or even triple your battery life.
For example, this iPhone 6 Power Jacket case provides 3000mAh of extra battery power, giving you more than 2.5 times the battery. That means if you can currently stretch to two days, you'll be able to reach five days with this case installed. If you're only making it one day, you'll still get a good two and half days with the Power Jacket.
Use a portable charger
Another option is a portable charger, which you keep in your bag until its extra power is needed.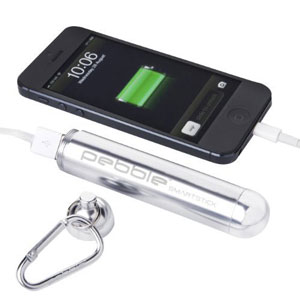 This Veho Pebble Smartstick Plus provides 2800mAh more battery life in a sleek silver package, giving you nearly 2.5x the total battery life. Whether you're sending text messages, receiving calls or just wasting time on Twitter, you'll have many more hours to play with.
Software fixes
These software fixes will compromise some of the iPhone experience, but are easy to try and don't require any investment beyond a few minutes of your time.
Find out what's using up the most battery
One of the most useful changes in iOS 8 is a new Battery Usage area in Settings, which reports which apps have used the most battery life. To get there, go to Settings > General > Usage > Battery Usage. You'll be able to see which apps have used the most battery in the past 24 hours and the past three days. Consider uninstalling or disabling the background services of apps that take a lot of battery but you don't often use.
Turn off location services
Another way to improve your battery life slightly is to stop apps from tracking your location. Apple provide fine-grained control for this under Settings > Privacy > Location Services. Disallow location access for apps completely, or only allow location access while you're using the app.
Enable Airplane mode
One of the biggest drains on your iPhone's battery are its connections to mobile networks and WiFi. You can enable Airplane mode to turn off both of these, although of course it means that people won't be able to contact you during these times. You can also take smaller steps like disabling 4G or 3G data if you're not using it.
Turn down the brightness
Your screen is another part of the phone that uses a lot of battery. Reducing the brightness of the screen (and disabling auto brightness) can minimise the amount of battery life lost this way. Disabling the parallax effect on the home screen can also very slightly reduce battery life. This can be done through Settings > General > Accessibility and selecting Reduce Motion.
Anything we missed?
Thanks for checking out the article. If you have any questions that we didn't answer or you're confused about something, let us know. You can reach us by the comments below, or talk to us on Twitter @mobilefun.