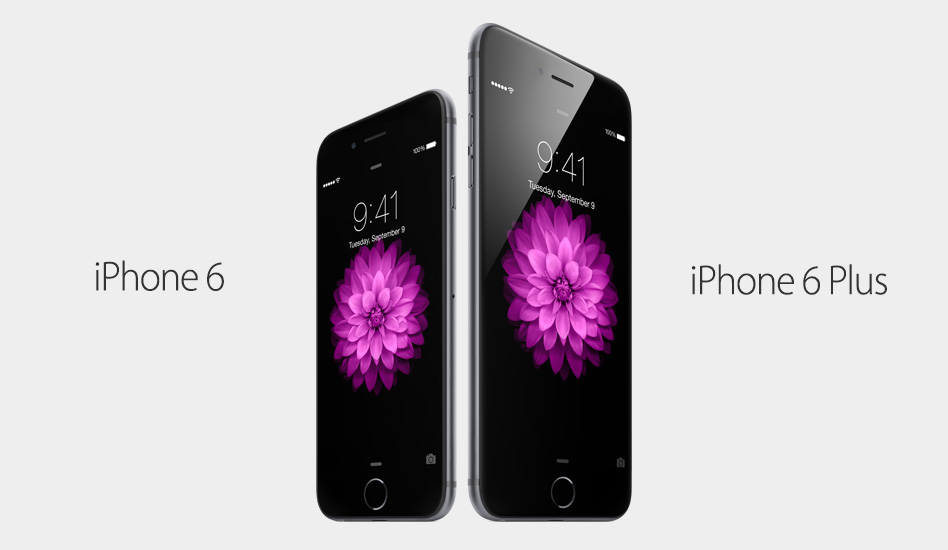 Last week Apple unveiled their new iPhone… or should I say their new iPhones. For the first time, it's possible to get a new iPhone in two different sizes: the 4.7-inch iPhone 6 and the 5.5-inch iPhone 6 Plus. While the choice is no doubt appreciated by many, for others it's an unprecedented conundrum–which should you buy? This article seeks to answer that question.
Design
So first things first–from a design perspective, these phones are identical. Both offer an aluminium construction, with bands of plastic separating the top and bottom caps from the main body of the phone. The only difference is that the 4.7-inch iPhone 6 is bigger than the iPhone 5, and the iPhone 6 Plus is way bigger than the iPhone 5.
That means if you're used to the size of previous iPhone, you're going to be more comfortable with the iPhone 6. All things considered, the iPhone 6 should be the 'default' choice chosen by most people, and best supported by accessory makers.
Specifications
When you look at the phones more closely, not too many more differences are apparent beyond the size of their screens and bodies. I've highlighted the differences in the table below:
| | | |
| --- | --- | --- |
| DISPLAY | 4.7-inch 1334×750 | 5.5-inch 1920×1080 |
| CPU | Apple A8 1.4GHz dual-core | Apple A8 1.4GHz dual-core |
| RAM | 1GB | 1GB |
| STORAGE | 16 / 64 / 128GB | 16 / 64 / 128GB |
| NETWORK | 20-band LTE | 20-band LTE |
| WIRELESS | Bluetooth 4.0, WiFi ac | Bluetooth 4.0, WiFi ac |
| NFC | Apple Pay only | Apple Pay only |
| BATTERY | 250 h standby, 14 h 3G | 384 h standby, 24 h 3G |
| CAMERA | 8MP dual-LED, 1.2MP | 8MP dual-LED w/ OIS, 1.2MP |
| SIZE | 138.1 x 67 x 6.9mm | 158.1 x 77.8 x 7.1mm |
| WEIGHT | 129g | 172g |
| OS | iOS 8 | iOS 8 |
| COST | £539 | £639 |
So beyond the different screens, sizes and weights, there are precisely two hardware differences. First, the iPhone 6 Plus has a larger battery, allowing it to last a little longer – particularly when the screen is off. Secondly, the camera has optical image stabilisation. The OIS works to counteract hand shake, allowing you to take less blurry photos–but it's worth noting it'll do nothing for capturing fast-moving subjects, like sportspeople and children.
So given these differences, there are three immediate kinds of people that might want the iPhone 6 Plus over the 'default' iPhone 6.
1. Fans of massive Android phones like the Note 4 or LG G3
2. Frequent iPhone photographers looking for the best hardware
3. People who need that extra boost in battery power
Tradeoffs
Of course, in these latter two cases there's a trade-off: you're getting a massive iPhone which weighs more and is harder to use with one hand – particularly if those hands are smaller than average.
Apple have anticipated this issue, and have made some changes to the hardware and to iOS 8 to (partially) alleviate it. Firstly, the lock button is now on the right hand side of the phone instead of the top (on both new models). They've also made a 'reachability' gesture: tap the home button twice to have the screen move down towards your fingers, allowing you to reach controls at the top of the phone more easily.
A tablet replacement
Even with these in place, you're getting an iPhone that's feels closer to the iPad Mini than to the original iPhone. In fact, when you compare an iPad Mini and an iPhone 6 Plus playing videos, the usable screen size is surprisingly close because the iPad Mini uses only the middle portion of its 4:3 display to show 16:9 videos.
The similarities with a small tablet don't stop there. Apple have also adopted the iPad's split view for many landscape-mode iPhone 6 Plus apps. That means you'll get an additional pane on the left or right, showing you more information at a glance than you'd find on the iPhone 6 or 5 version.
That makes for an iPhone 6 Plus that can replace both phone and tablet–and maybe even your laptop too. If you're tired of carrying around multiple devices, then the 6 Plus could be ideal.
The final choice
I think, all things considered, the iPhone 6 will appeal to more people than the 6 Plus. A jump from 4 to 4.7 inches is already substantial; a further jump to 5.5 is almost too much. Of course, if you're coming from the Android ecosystem, you may already be used to phones in that kind of region, and the 6 Plus becomes more appealing.
Otherwise, the advantages of the 6 Plus–longer battery life, a slightly better camera–are well balanced by the inherent clumsiness of using a larger phone, despite Apple's best efforts. If you are a keen photographer, or you need a boost in battery life desperately, then the iPhone 6 Plus can make sense. For everyone else, the iPhone 6 is the better choice.
Signing off
Which iPhone are you choosing? Let me know in the comments below, or speak to us on social media. We're @mobilefun on Twitter and Love Your Mobile on Facebook.