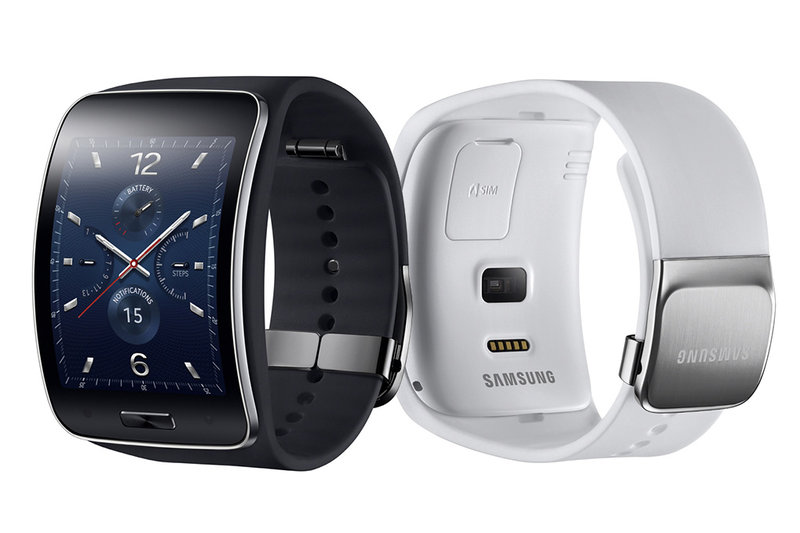 Samsung's Gear Fit wearable was critically panned upon release, but everyone liked its unique curved display. The curve looked good, and it also allowed Samsung to include a much larger screen than ever would be ergonomic otherwise. Today, Samsung unveiled another curved display wearable: the Gear S smartwatch.
The first thing you'll notice about the Gear S is that its Super AMOLED display is massive. That flexible screen has allowed Samsung to fit a 2-inch 360 x 480 screen on your wrist, without a significantly bigger footprint than the 1.65-inch Gear Live. The effect is quite striking, particularly together with the analogue watch face that Samsung have chosen in their press shots.
When it comes to hardware, the Gear S has one big trick up its sleeve: connectivity. You'll find a SIM card slot on the back of the watch, which'll allow it to operate independently of a smartphone. The Gear S also includes Wi-Fi, Bluetooth, GPS, an accelerometer, a gyro, a compass, a heart-rate monitor, an ambient light sensor, a UV sensor and a barometer. It's an impressive litany of sensors and connectivity options. One nice advantage of  this is that you'll be able to go for a run, record your route and fitness information, all without a smartphone bouncing around in your pocket.
Otherwise, the Gear S mirrors what we've seen from Samsung wearables in the past. It runs the Tizen OS and is powered by a dual-core 1GHz processor, backed with 512MB RAM and 4GB internal storage. Performance was generally improved in Samsung's Tizen follow-up to its initial Android-based watch OS, so we should see a reasonably smooth interface here once again. The final important piece of the internals is the battery, which is 300mAh. It doesn't sound like a lot to me, but Samsung have claimed that the device will last two days.
The Samsung Gear S is coming soon to Mobile Fun. For more information or to place your pre-order, please visit the links below:
If you have any comments, please leave 'em below in the normal place or speak to us on Twitter @mobilefun.