When the Galaxy S4 was released, Samsung released a case to go with it: the S View, a windowed folio case that let you have the safety of a flip cover and easy access to the time and notifications through the window. Similar versions have been released for the Note 3 and Galaxy S5, and they've all maintained the original's high price point. Thankfully, case makers Spigen have produced a best-selling alternative that includes improved protection and better looks at a lower price point. Let's have a look at their latest example, the Spigen Slim Armor View Case for the Galaxy S5.
The most important feature of the Slim Armor View is its clear plastic view window. When the case is installed, your Galaxy S5 will show notifications and other information within that window automatically. Incoming calls, notifications and the time will all appear as necessary, without the need to open the flip cover to check what's going on. You can even use the touchscreen through the window, allowing you to accept or reject calls, act on notifications or launch the camera.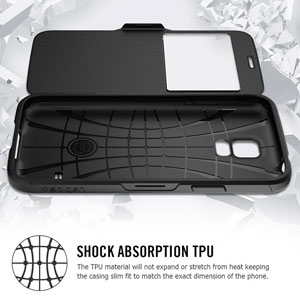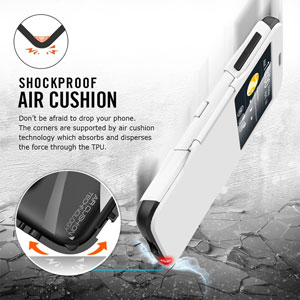 The Slim Armour View is also a great protective case, with its dual layer TPU and polycarbonate construction. The flip cover provides great screen protection too, preventing costly scratches. The polycarbonate mid section also comes with a grippy coating to prevent drops in the first place.
The Slim Armor View Case is a brilliant premium case for the Galaxy S5, offering comprehensive protection, the convenience of a windowed flip cover and a beautiful look in smooth black or white. For more information and to place your pre-order, check out the product pages linked below:
Thanks for checking out the article and be sure to let me know your first impressions of the case in the comments below!