Edit: Price removed. We'll announce our price following the official release.
We recently named the Motorola Moto 360 the most anticipated smartwatch in the world, even beating out Apple's expected iWatch in terms of media attention. With a big, beautiful circular dial and the power of Android Wear, the watch looks like it may become the first really must-have smartphone ever.
The Moto 360 was recently worn on the Tonight Show with Jimmy Fallon by Verge host Joshua Topolsky. The watch, which had looked oversized in some concept shots, seemed quite ordinary compared to other watches, with a expansive but slim face. The watch's display turns on in response to your movement, so it doesn't waste power but it also appears when you need it. The Moto 360 is one of the first truly good-looking smartwatches, that you'd actually want to be seen wearing.
The Moto 360 is more than just a good-looking watch though, of course. As well as the time, you'll get a constant stream of notifications from your phone over its Bluetooth connection, letting you know about incoming emails, text messages, calls, calendar appointments and all sorts of other things. Of course, if you'd prefer a more sedate watch experience, you're free to turn off notifications for all but the most urgent events.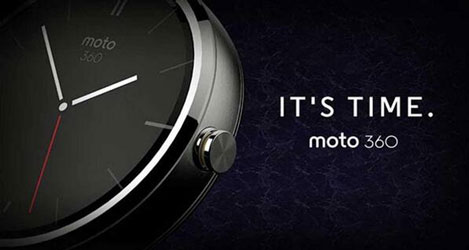 The Moto 360 also comes with a bevy of fitness functions, allowing it to track your exercise and sleep. In concert with an app on your phone, you'll be able to see your current health at a glance, in a similar way to Apple's Health app.
This new smartwatch should also be one of the most responsive on the market. The inclusion of Google Now functionality should allow it to be rather clever too, responding to your oral prompts with timely information about your schedule, surroundings and other titbits gleaned from your email. If you find Google Now helpful on your phone, you'll like it even more on your smartwatch.
The Moto 360 comes with a range of watch faces and themes, so it always can match your style. Replaceable watch bands are also on the cards, letting you choose a material and look that fits you best.
The Moto 360 is expected to be available later this summer. To place your pre-order or see more about the smartwatch, visit our product page below:
Thanks for checking out the article, and be sure to let us know what you think on Twitter @mobilefun.