The Nokia CR-201 and CR-200 are car docks, serving as both Qi wireless chargers and car holders. The CR-201 replaces the CR-200, fixing some issues with its design and adding support for the Lumia 930, 1320 and 1520.
The Lumia 930, Lumia 1320 and Lumia 1520 aren't listed as compatible with the older CR-200 because the side grip will rest above the camera button. It's still technically possible to use the CR-200, but it's recommended that you upgrade to the newer CR-201 which is designed to accommodate these larger phones.
Full Compatibility Lists
Nokia CR-200 is compatible with: Lumia 630, 720, 820, 920, 925, 1020
Nokia CR-201 is compatible with: Lumia 630, 720, 820, 920, 925, 930, 1020, 1320, 1520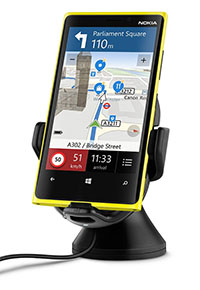 Other Improvements
In addition to the wider compatibility, the CR-201 also fixes an issue with the CR-200 that caused the release mechanism to break on some units. The improved CR-201 shouldn't suffer from this problem.
Conclusion
I hope you found this brief article useful! Thanks for checking it out and be sure to leave any questions in the comments below.