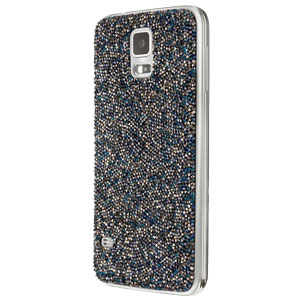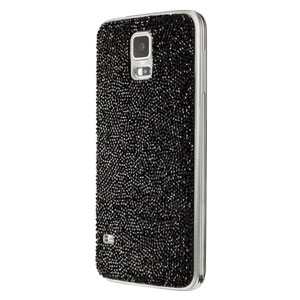 Last week, Samsung announced a new partnership with bling manufacturer Swarovski, to create crystal-embedded rear covers for the Galaxy S5. Today, Mobile Fun is the first to have a UK price for these new accessories.
Each Official Samsung Swarovski Studded Back Cover will ring in at £140, situating these covers at the very highest end of the market. The covers are bold and attention-grabbing, with hundreds of miniature Swarovski Crystal Fine Rocks encrusted. The covers, created using a specially-designed application process, definitely offer a more glamourous look than the rather pedestrian bandage texture you'll find on the usual Galaxy S5 rear cover. The rocks sit around the phone's rear features, filling every space save for the camera, flash and speaker grille.
The Official Samsung Galaxy S5 Swarovski Studded Back Cover will be available in two varieties: black and silver. Both varieties are glitzy and attention-grabbing, with the luxury cut lead glass material providing a constant shimmer and sparkle.
These Swarovski Studded Back Covers are available for pre-order now at Mobile Fun, via the product pages below:
Thanks for having a look at these fancy covers. If you're in the mind to try a more affordable (and arguably better looking) alternative, have a look at our full range of Galaxy S5 cases and covers.