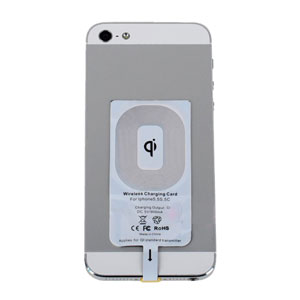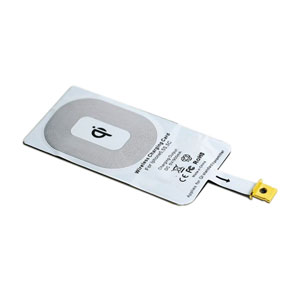 Wireless charging is awesome. iPhones are awesome. Let's combine these two awesome things with one more awesome thing: a Qi Wireless Charging Receiver for the iPhone 5S, 5C and 5.
The 'Wireless Charging Receiver' sounds kind of complicated, but it's really not. It's just a little bit of coiled wire, sitting in a sealed plastic strip with a Lightning connector on the end. Once you plug this into the iPhone's Lightning port, you can wirelessly charge your iPhone.
Of course, just having a random packet of coiled wired attached to your iPhone isn't ideal. So what you can do is plug it in, then fold it behind the phone (next to the Apple logo on the back). Then you can put on a case of your choice, hiding the cable away but keeping your wireless charging capabilities.
This is a really nice way of doing things, because you can choose a case you like (or already own!) instead of being forced to choose a specific wireless charging case. And when you want to use the Lightning port, it's simple to unplug the adapter and plug it back in when you're done.
Of course, for wireless charging to work you do need a source of wireless power. This adapter and all of our charging pads are on the Qi standard, so any of these wireless charging pads will do the trick. You can find flat pads for your bedside table, stands for your desk and car holders for your automobile. It's a pretty comprehensive system and it works well.
Interested in this Qi adapter for the iPhone 5S? For more information, including live ability and pricing information, visit the product page linked below:
I hope you find this useful! For more great accessories, stay tuned to the Mobile Fun blog.