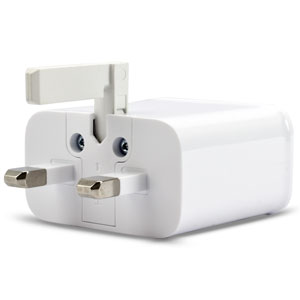 It seems like a good day for Samsung Galaxy S5 chargers. Earlier today we looked at special USB 3.0 cables for the Galaxy S5, and now we're going to see the official Galaxy S5 UK mains charger. If you've lost or damaged your original, or you just want a spare for traveling or the office, then check this out!
This Galaxy S5 charger is the same as the one you'll find in the box. It charges your phone from UK plug sockets, and much faster than you'd get from a USB port on a computer. The charger is high quality, with a white build and Samsung branding that matches the phone itself.
So why buy the official Galaxy S5 mains charger instead of any other USB mains charger? Well, it includes support for Qualcomm Quick Charge 2.0 and an impressive 2A amperage. In practical terms, that means your phone charges 75% faster than a normal charger of an equivalent amperage. That's a big difference – now you can charge your phone in under two hours; almost twice as fast as previous generation chargers.
Of course, this official Samsung product is just a good charger too. Its folding design ensures it's nicely portable despite our bulky UK plug shape, while a side-mounted USB port ensures you can easily fit it into tight spaces. It's Samsung too, so you know that you're getting a high quality accessory that'll last the life of your phone.
The Official Samsung Galaxy S5 UK Mains Charger is available for pre-order now at Mobile Fun. To see more information on this accessory, check out the product page linked below.
Feel free to let us know what you think of the article and the accessory in the comments below. Thanks for reading this blog and we'll see you again soon!