One phone we haven't covered as much as I'd have liked at the Mobile Fun blog is the LG G2. The phone is the basis for the popular Nexus 5, but is also awesome in its own right. It enjoys the highest screen to surface ratio of any smartphone, thanks to buttons located on the back and minimal bezels. It also has a giant battery, making it a good choice for all-day use without turning off essentials like WiFi, Bluetooth or LTE. In any case, it's definitely deserving of any article – so here one is. Let's look at the best cases and covers available for the G2!
5. Flexishield Case for LG G2 – Black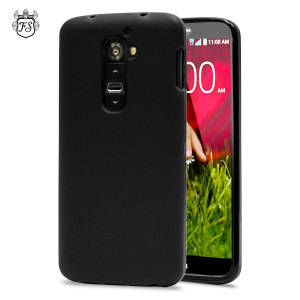 The first LG G2 case we're going to look at is the venerable Flexishield. This case is a great budget option, with a tough gel construction and a simple look. The complete covering of the phone's edges and sides ensures good scratch protection, while cutouts on the back allow the rear-mounted buttons to be used easily. A good starter case, available in black, purple and blue.
4. Case-Mate Tough Case for LG G2 – Black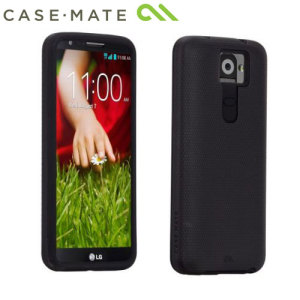 If you're looking for a tough case for your G2, then the Case-Mate Tough Case isn't a bad shout. The case offers good protection from drops and falls and a textured grip, making it ideal for those with active lifestyles. Despite its protective qualities, the Tough Case doesn't go to far to become bulky, remaining highly pocketable.
3. Cruzerlite Bugdroid Circuit Case for LG G2 – Green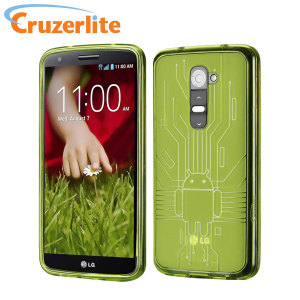 If you're an Android fan, then this is the ultimate case. The Bugdroid case by Cruzerlite has a beautiful 'Andy the Android' design, with a circuit-inspired background that allows the phone beneath to show through. The case is proficient too, with the sturdy gel material providing moderate impact resistance and good scratch protection too. All in all, a stylish and highly appropriate case for the G2.
2. Spigen Slim Armor Case for LG G2 – Infinity White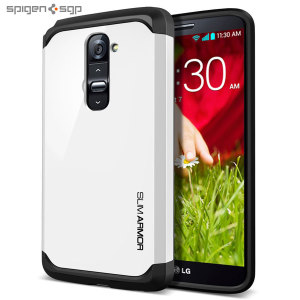 Spigen is my favourite manufacturer of phone cases as of late, offering a very slick modern style and excellent protective credentials. The TPU construction with a polycarbonate midsection is a wise combination, and hasn't let me down. The two-tone design on the Infinity White model is reminiscent of Portal (and my PC), so I've got to give it credit for that too.
1. LG G2 QuickWindow Case – Black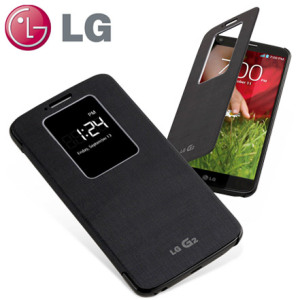 Like Samsung's S View, this case allows you to see the time, notifications and incoming calls through a window in the flip cover. This eliminates the biggest annoyance of flip cases, while maintaining the cool look and screen protection the form factor provides. The QuickWindow is made by LG themselves, and as such suits the phone entirely in both form and function. A great choice.
Conclusion
And with that we're finished! Thanks for checking out the article, and feel free to share your own LG G2 cases and covers of choice in the comments below.