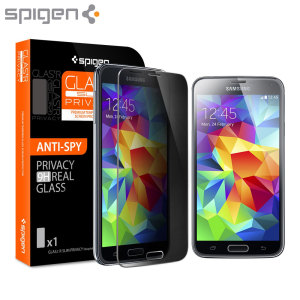 The Samsung Galaxy S5 continues to attract a wide range of interesting accessories, as manufacturers prepare for the launch of what is likely to be the best selling phone this year. Today it's Spigen's turn to innovate, with the release of a new tempered glass screen protector that's for your eyes only. Spigen's GLAS.tR SLIM Privacy Tempered Glass Screen Protector combines the unparalleled protection of real tempered glass with this new proclivity for privacy.
Let's look at this new privacy focus, which is a first for a Spigen screen protector. The screen protector is made from a special material which is transparent when viewed straight-on, but becomes opaque at an angle, preventing people from glancing over and seeing your Galaxy S5's display. This is ideal for using your phone on mass transit or other public venues, without your personal affairs being visible to anyone who cares to look.
The tempered glass construction here is as strong as on the other GLAS.tR screen protectors that Spigen produce, with a multi-layer chemically-reinforced design that protects your screen from scratches and is resistant to shattering. The glass also has an oleophobic coating that will keep it free from greasy fingerprints and mean you have to clean your screen less often.

All of this technology is packed into a 0.4 millimetre sheet, adding absolutely minimal thickness to your Galaxy S5. Installation is easy too, with flat glass ensuring a bubble-free installation and an optional epoxy-coated button cover allowing the same look for your phone's home button.
The Spigen Galaxy S5 GLAS.tR Privacy Screen Protector offers best-in-class performance and will keep prying eyes from your phone, so you can surf the web, write emails and send text messages undisturbed wherever you are. The screen protector is available for pre-order now via the link below.