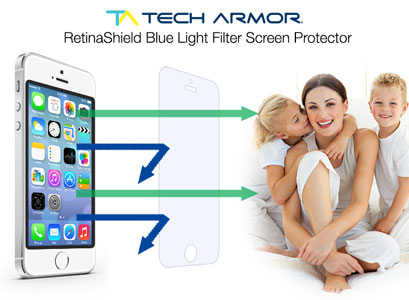 According to a recent BBC article, opticians are calling for smartphone users to be wary of damaging their eyes. Optician Andy Hepworth has stated that "blue violet light is potentially hazardous and toxic to the back of your eyes… over a long period of time it can potentially damage your eyes… when you're looking at a smartphone, the light peaking out of that is blue violet." This puts users at a risk of macular degeneration, eventually causing blindness. Other effects have been reported to, including headaches and disruption of sleep patterns.
While the news is worrying for smartphone users, it's relatively straightforward to block harmful blue-violet light, through a filtering screen protector. We've added a new product to our site, the Tech Armor RetinaShield Blue Light Screen Protector. This iPhone 5S / 5 / 5C screen protector filters out the harmful blue light, making for a more comfortable and less damaging smartphone viewing experience.
The Tech Armor RetinaShield Blue Light Screen Protector is available for pre-order now via the link below. In the meantime, be sure to take frequent breaks from using your smartphone and other screens, to look at the world around you. A walk around could also help your health!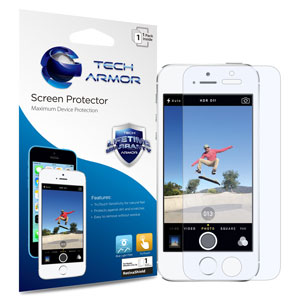 Be sure to let us know what you think of this new kind of screen protector in the comments below. If you would like to see this screen protector made available for other models of phones, let us know this too, and we'll endeavour to do so if we see sufficient demand.
Thanks for reading the article, and have a good weekend!