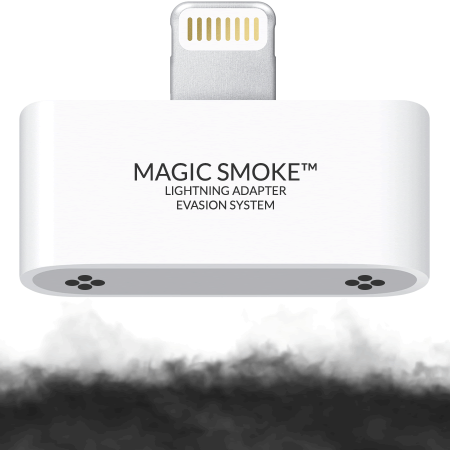 OK, it's April 2nd now so we regret to inform you that this isn't a real product. Thanks to everyone that showed an interest in the Magic Smoke – you should have received your £10 voucher via email for your good humour.
If you're on the lookout for some cool – and real – iPhone 5S accessories, check out the rest of our site!
Magicians always have the coolest gadgets – and now you can enjoy them too. One of the classic elements of their repertoire are smoke bombs, which can be thrown on the ground to create a puff of smoke. Then, the magician can escape scot-free. That's why we're introducing the Magic Smoke attachment for the iPhone 5, 5S and 5C.
The Magic Smoke is a small Lightning adapter that attaches to the bottom of your iPhone, and interfaces with the Magic Smoke app. Whenever you want to escape a sticky situation, just open the app and press the large red button. A large amount of smoke will erupt from the bottom of the adapter, cloaking you from view.
The Magic Smoke Adapter comes with enough smoke built-in for up to three escapes. Additional smoke cartridges can be purchased inexpensively from hobby shops, and can be installed quickly for subsequent escapes. In fact, it's possible to pop off a smoke, then load additional cartridges before the smoke clears.
As well as a general purpose escape method, the Magic Smoke can also be loaded with dyes that produce coloured smoke, ideal for distractions and misdirections. Whether you use the Magic Smoke for fun or mischief, you'll definitely find it effective.
For more information on the Magic Smoke, see our full product page here. We're also looking at sourcing Magic Smoke as a standalone universal gadget that connects over Bluetooth, allowing compatibility with Windows Phone and Android phones and tablets too.
Thanks for checking out the article, and be sure to let us know what you think in the comments below!