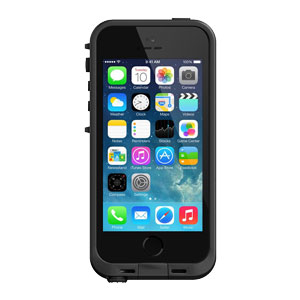 Today we're having a look at a new case for the iPhone 5S and iPhone 5, the LifeProof RealTree Fre. We've covered the LifeProof Fre before, but this new RealTree variant offers the same excellent protection with a new camouflage design.
The RealTree is so named because it has a design across the case showing a peaceful woodland scene. This design feels deep and layered, almost looking 3D. The design is an ideal choice for anyone who enjoys spending time in nature.
Otherwise, the LifeProof Fre is a solid protective case that's ideally suited to resisting the natural hazards that threaten any smartphone. The Fre is designed to military standards, and is able to resist both water and dust with a full IP-68 rating. The double AR-coated glass covers the camera lens, protecting it from water while ensuring clear photos and videos.
Despite its protection, the Fre is a very slim case. Minimal bulk is added to the iPhone 5, and the case weighs less than 30 grams. This is a tough iPhone 5S case that you can easily fit in your pocket!

The case evens include some rare features for a protective case – it is fully compatible with the iPhone 5S' Touch ID fingerprint sensor, and it has a special acoustic chamber that makes the iPhone 5S loudspeaker… louder. Of course, the case provides full access to all ports and features too.
The LifeProof RealTree Fre is available for pre-order now at Mobile Fun, and will be available in the coming weeks. For more information and to place your pre-order, visit the product page linked below:
Thanks for checking out the article and be sure to let us know what you think in the comments below!