Gaming on Android is awesome.
This year we've seen the release of the gaming-focused Nvidia Shield handheld, games consoles like the Gamestick and the Ouya, and of course plenty of capable new phones and tablets. These big hardware releases have been backed with plenty of awesome new titles from big and no-name developers alike – like Dead Trigger 2, Asphalt 8, Plants vs Zombies 2, Grand Theft Auto: San Andreas and Assassin's Creed: Pirates.
While Apple only added official controller support to iOS 7 this year, Bluetooth game controllers have been supported on Android for years and we've seen a lot of cool controllers developed for Android phones. These gamepads provide more tactile feedback and make things easier to control, unlocking ultimate performance that you just won't get when tapping on glass.
Perhaps most importantly, they bridge the gap between mobile and console, allowing for a truly next-gen experience on your phone or tablet. Shooters, platformers and racing games all work so much better with a controller – and emulators, apps that let you play games from older consoles, really require a controller to get the full experience.
With that in mind, we're happy to unveil the new Samsung Wireless Gamepad, which combines a state-of-the-art game controller with a handy mobile holder that can take phones with displays between 4 and 6.3 inches. This handheld form factor is ideal, as you don't need to bother with a separate stand – the screen is already in the perfect place. You can also slide the clip back into the body of the controller for storage or if you're gaming on a TV or tablet.
The controller has a pair of analogue sticks (in Xbox 360-style layout), a D-Pad, four face buttons, Start and Select, and two triggers – so you'll have enough buttons to tackle most Android games on the market, and the majority of emulated titles as well.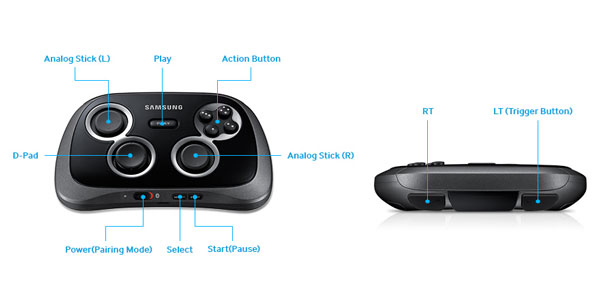 The Samsung pad connects over Bluetooth, so it's compatible with a range of Android devices running Android 4.1 or later. It's optimised for Samsung devices running Android 4.3 or later, where you'll get a few extra features like pairing using NFC and access to Samsung's app collection.
The Official Samsung Wireless Gamepad arrives at Mobile Fun at the end of the week, so if you get sufficiently fast shipping it'll still be available in time for Christmas! To place your pre-order and to see additional information, check out the product page linked below:
Thanks for checking out the article and have a good one!