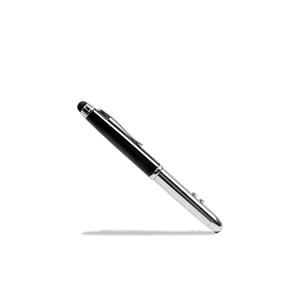 The weekend's almost here and Christmas is around the corner. If you're like me and still frantically looking for the perfect gift for that guy or girl on your list, then take a look at this: a cleverly named, cleverly designed gadget you'll be proud to give.
It's called the 4thWrite – like forthright, get it? This is a 4-in-1 gadget, including:
Capacitive stylus for use with phones and tablets
Ballpoint ink pen for use with paper and the like
Red laser pointer for cats and presentations
LED torch for looking at your keys (and other uses!)


It's really nice to have all of these functions in a pen you can just keep in your pocket or bag. You can use your pen in the morning to do the crossword, the stylus to take notes in class, the torch to get in the front door that evening, and then spend the rest of your day playing with any nearby cats / dogs / toddlers with the attractive red laser light. An entire day of work and play, all made possible with the 4thWrite!
It all fits together so nicely, too. In a classy, normal-looking pen you've got a stylus on one end, and the laser and LED on the other. Pull off the stylus end, and there's the ballpoint pen safely hidden away. Two buttons let you turn the LED and laser on, without being big enough to cramp your writing style.


I think you've got the gist of it, so I'll leave you to our comprehensive product page for full details on each of these functions.
Thanks for checking out the article, and be sure to let us know what you (or your gift recipient) think(s) of the 4thWrite in the comments below!