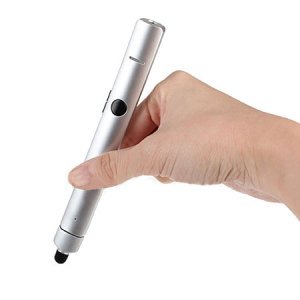 One of the coolest parts of the Asus Padfone for me was its unique stylus accessory, which doubled as a Bluetooth headset. Today, I'm happy to announce that Mobile Fun will be stocking a product with even more impressive capabilities, the Padblue 2 Stereo Wireless Stylus.
So, to start off with – the Padblue 2 is a comfortable and durable capacitive stylus that'll work on all capacitive (i.e. non-resistive) touch screens, which encompasses pretty much all modern mobiles, tablets and Windows 8 PCs. This stylus is perfectly suited to playing games, drawing and taking notes.
What really sets the Padblue 2 apart from other styli on the market is its ability to work as a Bluetooth headset. Using a simple pairing procedure, you'll be able to wirelessly connect the Padblue 2 to your mobile or tablet. Then, using the stylus' integrated microphone and earpiece, you'll be able to carry on conversations. You can also answer and disconnect calls using the stylus' click button. Finally, the Padblue 2 includes a headphone jack, allowing you to listen to your music over that Bluetooth connection on your favourite pair of headphones.
If you'd like to hear more about the Padblue 2 Stereo Wireless Stylus, check out the product page linked below.
Thanks for reading the article and be sure to let us know what you think of it in the comments below.