Screen protectors are one of the most cost-effective methods of protecting your phone, but it can be difficult to tell the difference between different models on the market. Today, we'll take a closer look at some of the best Galaxy S4 screen protectors available.
3. Case-Mate Anti-Glare Screen Protector for Samsung Galaxy S4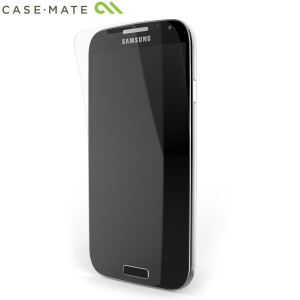 We'll start with the Case-Mate Anti-Glare screen protector. Now this is a fairly basic option which protects the screen from common sources of damage – stuff you'll find in your pocket like keys, pens or coins.
The screen protector self-adheres to your screen, where it fits precisely around the earpiece and home button. There is a bit of fingerprint resistance here too, meaning you'll have to wipe your phone clean less often.
Finally, there's some anti-glare coating instilled in the screen protector which block the reflection of UV rays, meaning that it'll be easier to read your screen in sunlight and with sunglasses on.
2. Tech21 Impact Shield with Self Heal for Samsung Galaxy S4
Our next screen protector for the S4 comes from the masters of D3O, Tech21. These guys definitely know their protective sciences, and the Impact Shield is another excellent example of this.
This screen protector is a bit thicker than others, with multiple layers offering excellent impact resistance. The top layer is hard and spreads the impact force, while the second is called BulletShield and is made from the same material used in bulletproof glass, with a BASF protection inlay that provides additional strength.
Once applied, the Impact Shield enjoys self-healing and anti-scratch properties to ensure that it remains in good condition for the life of your phone.
1. BodyGuardz Samsung Galaxy S4 Privacy Screen Protector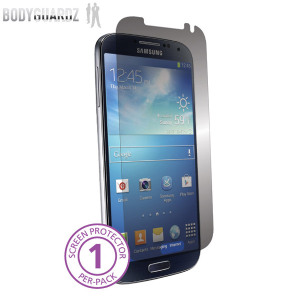 We'll end with the BodyGuardz Privacy Screen Protector. This one offers the same protective benefits you'd expect from any screen protector – minor impact resistance and good scratch resistance – but adds one critical feature: a privacy screen.
The screen will only be visible when you're looking straight at it – people looking from above, below, to the left or to the right will just see a black screen. This kind of screen protector is used by Apple to hide in-development software from prying journalists, but also works well to keep your texts and web browsing private.
Conclusion
OK, that's all for now. Thanks for checking out the article and have a great afternoon. If you have any questions or comments on any Galaxy S4 accessories, feel free to share them below.