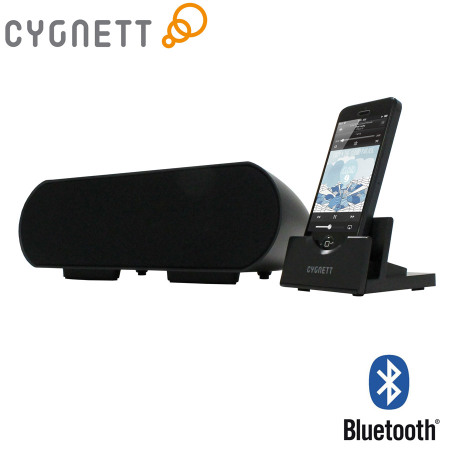 Allow me to introduce the Cygnett Soundwave – a rather cool Bluetooth Speaker and Dock that's ideal for barbecues, parties or simply for everyday use around your home.
We recently featured this product on our newsletter, and now it's time to bring it to our blog readers (and by extension our friends on Facebook, Twitter and Google+).
So – the Cygnett Soundwave is a portable Bluetooth speaker, designed to make any audio – music, movies, games and more – sound much better than if you used your smartphone or tablet's internal speakers. With rich stereo sound, dynamic drivers and passive radiators, there's a lot to like about the Soundwave. Despite its acoustic acumen, the Soundwave isn't massive either – you can easily bring it to a party or to the beach, or just move it from room to room as needed.
The SoundWave is equipped with two connection options: wireless Bluetooth technology and a wired 3.5 mm stereo jack. The Bluetooth option is probably what you'll want to use on smartphone, tablets and laptops that support it – which is most of them these days. That 3.5 mm stereo jack means that you'll be tethered to the speaker and you won't be able to move too far away, but it's a good fallback option for MP3 players and other devices that don't support Bluetooth.
As you might expect from a portable speaker, the Soundwave can be powered from the mains or supplied with batteries. The Soundwave takes 8 AA batteries, allowing it to be used pretty much anywhere without problems.
Finally, the Soundwave comes with a small bonus: a useful, universal smartphone dock. The dock includes a cable passthrough, allowing you to insert your own charger to sync and charge as needed. It's a useful little device and definitely meshes well with the Soundwave speaker.
The Soundwave is definitely a great choice if you're looking for a quality Bluetooth stereo speaker. It's currently available for a special price on Mobile Fun – just £39.99, down from the RRP of £89.99. Of course, pricing and availability can always change, so please check out the latest information at the official product page linked below:
Cygnett Soundwave Bluetooth Speaker and Dock
I hope you found this article useful. Be sure to share any questions or comments in the relevant area below. Thanks for reading and have a great afternoon!