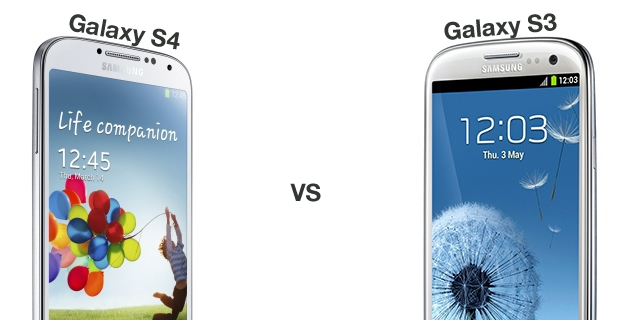 1. Battery life is improved. If you hate running out of charge, then the Galaxy S4 is the place to be. You get a massive 2600 mAh battery (compared to 2100 mAh on the S3), as well as a host of new technologies like Bluetooth 4.0 that should reduce battery usage. GSMArena found they got two or three hours more battery life out of the Galaxy S4 compared to the Galaxy S3, in tests of talk time and web browsing.

2. It's faster. The Galaxy S4 is a full year more powerful than the Galaxy S3, with double the amount of RAM (2 GB vs 1 GB) and a faster CPU (Snapdragon 600 vs Exynos 4412, at 1.9 GHz and 1.4 GHz respectively). That keeps the Galaxy S4 at the bleeding edge, and ensures perfect performance for longer, from loading web pages to playing the latest games.
3. It's smaller, thinner and lighter. Despite including a larger, higher-resolution display, the Galaxy S4 is actually the same height as the Galaxy S3 and about a millimetre less wide. It's also nearly a millimetre thinner and three grams lighter.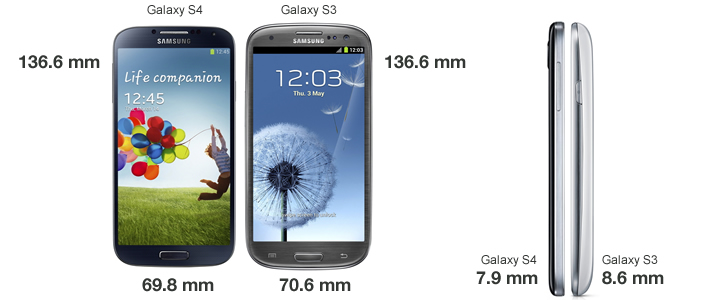 4. It's got a better camera. The 13 megapixel camera on the Galaxy S4 blows the 8 megapixel unit of the Galaxy S3 out of the water, with sharper pictures and a whole host of new camera modes too – you can use dual shot to shoot video or stills from both cameras at once, drama shot to composite a moving subject or sound and shot to capture ambient noise or make a voice memo for a photo.
5. It's more up to date. With Android 4.2.2, you get the very latest Google has to offer. From improved notifications and lockscreens, a more clever Google Now to overall performance enhancements, Android 4.2 is where you want to be. You'll also get faster updates to new Android versions.

6. It's got a more beautiful display. The Galaxy S4 packs a Full HD (1920 x 1080) display that's noticeably crisper and more beautiful than the HD (1280 x 720) display on the Galaxy S3. New display modes allow you to choose between punchy, saturated colours and more natural tones. Text looks better, whether on the web or in an ebook, and Full HD movies and TV shows look stunning.
7. It's better for you. The Galaxy S4 includes a couple of new sensors for temperature and humidity that aren't on any other smartphone, including the S3. These hook into the new S Health app, allowing for easy monitoring of your environment as well as your diet and exercise. Best of all, the Galaxy S4 tracks your steps each day, pushing you towards that healthy 10,000 steps goal.
8. It's got faster wireless and faster cell data. The Galaxy S4 introduces 42 Mbps over 3G, which is great if you're not on LTE. It's also got Wireless AC, a new Wi-Fi standard that boasts incredible speeds – typically 3x faster than Wi-Fi N – and better range, too.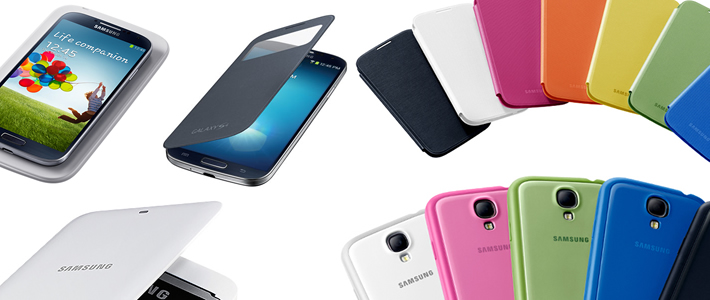 9. It's got cooler accessories. While the S3 had a strong ecosystem, we're seeing big improvements for the Galaxy S4. Samsung have produced an S View Cover that shows you notifications and the time through a clear window, in a wide range of colours. We've also seen wireless charging covers, extended batteries and loads more exclusive accessories for the Galaxy S4.
10. It's from the future. While the Galaxy S3 introduced eye-tracking tech to keep the screen on while you're looking at it, the Galaxy S4 has a bunch more tricks that make you feel like you're living in the future. You can gesture in front of the screen to scroll through a web page or skip songs. You can hover your finger over the screen to see more information. You can even scroll down a web page by just looking at the bottom of the screen, which feels like mind reading.