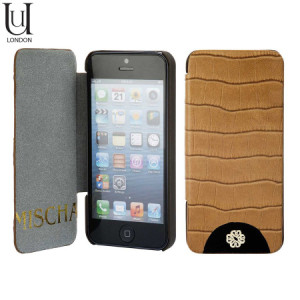 With London Fashion Week over, we're helping to keep the trends alive with these fabulous new Mischa Barton iPhone 5 cases.
You'll probably recognise Mischa's name as she famously played Marissa Cooper in the OC, who had one of the most memorable deaths in the show – fans still talk about it today!
Since the OC, Mischa has branched out into the fashion world: designing bags for ASOS, headbands for Stacy Lapidus and even launched her own clothing line called 'Mischa's Place'. Now Mischa is the face of UUnique and has designed this gorgeous iPhone 5 case range for them.
Timeless in their design, these iPhone 5 covers are handmade from the highest quality leather to provide a fashionable and sophisticated croc finish, complete with both Mischa's signature logo on the front and the UUnique logo on the back.
The cover protects the entire iPhone 5 from daily damage caused by bumps and scrapes so that it remains looking newer for longer; even keeping the screen free from damage. The inside front cover uses a soft microfibre lining to cushion the iPhone 5 screen and has Mischa's name printed in gold for that extra luxurious feel.
The back of the case features a kick stand which simply pops out when you need it, so that working with the iPhone or streaming media can be done in complete comfort. The kick stand can then be clicked back into place when it isn't needed, so it's flush with the case.
You have access to all the ports and features of the iPhone with this designer iPhone 5 case too, so that you can still use other accessories with the phone while it's in the case; meaning that it stays protected and stylish at all times.
The Mischa Barton Luxury Croc Finish iPhone 5 cases are available now in either brown or black: