We're happy to announce that we'll soon have some first party
Nokia Lumia 920 accessories
in stock at Mobile Fun – including those amazing wireless
Nokia Lumia 920 chargers
and charging shells for the Nokia Lumia 820. Let's take a closer look.
1. Nokia Lumia 820 / 920 Wireless Charging Stand (DT-910WH)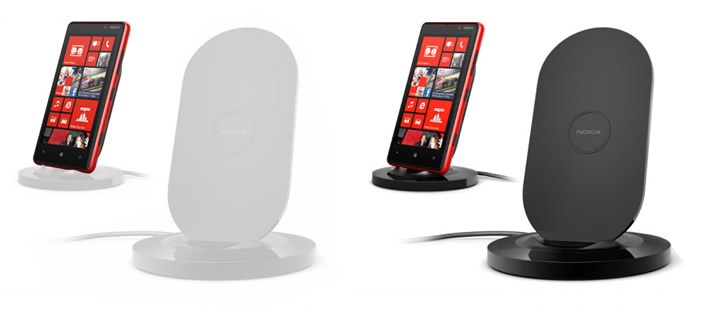 This wireless charging stand does exactly what it says on the tin – it wirelessly charges the Nokia Lumia 920 or charging-shell equipped Lumia 820 while keeping your phone in an upright position so it's easy to keep an eye on incoming notifications.
The wireless stand even includes an NFC chip, allowing you to choose applications to launch and settings to toggle when you put your phone on the stand. That means it's easier than ever before to remember to set that alarm before bed or open up your appointments when you get into the office.
The wireless charging stand comes in a choice of white or black, which should complement the bold colours of the Nokia Lumia handsets nicely.
2. Nokia Lumia 820 / 920 Wireless Charging Fatboy Pillow (DT-901RD)

If you're looking for a more relaxed wireless charging option, then this should be at the top of your list. This Fatboy charging pillow offers a safe and comfortable place for your phone to recline, keeping it topped up without the hassle of plugging in your phone each time.
The pillow is small and stylish, measuring just 190 x 140 x 30 mm. It also comes in a choice of two bright colours – red or cyan. This way you can easily find a nice shade to match your phone.
3. Nokia Original Lumia 820 Wireless Charging Shell (CC-3041BK)

This wireless charging shell adds Qi-standard charging support to the Nokia Lumia 820. This means you'll be able to use the accessories listed above and below to wirelessly charge your Lumia 820.
The inexpensive charging shell also provides excellent protection, wrapping your Lumia 820 in a protective layer that resists scratches and other damage. If you're looking to get a case for your Lumia 820 anyway, why not get one that supports wireless charging too?
The case is built by Nokia themselves, so it fits the phone perfectly. It's also available in all the right colours – white, black, cyan, red and yellow, so you can get one that perfectly matches your phone or choose a contrasting colour for a unique look.
4. Nokia JBL Powerup Wireless Charging Speaker (MD-100WBK)

This is the biggest Nokia Lumia 920 and 820 accessory ever – a full JBL speaker dock, augmented with Nokia's Qi-standard charging technology for the perfect integrated solution. There's also an embedded NFC chip, so you can easily launch the music player whenever your Nokia smartphone is charging.
You can just place your Lumia 820 or 920 on the top to charge it, and then play music through Bluetooth or using the 3.5 mm auxiliary cable. Of course, the speaker also is compatible with any music producing gadget, from MP3 players to smartphones to tablets, that support either Bluetooth or have a 3.5 mm stereo jack.
For a beautiful sound and a clever wireless charging solution, you can't get any better than the Nokia JBL Powerup Wireless Charging Speaker – it's the ultimate musical accessory for the Nokia Lumia 820 and 920. The speaker even comes in a choice of three colours – black, white or cyan.
Conclusion
For more information on these products, please visit their product pages via the links above. If you've got any queries, feel free to ask via the Disqus comments section on either the product pages themselves or directly below. Thanks for reading and be sure to let us know what you think of the accessories!