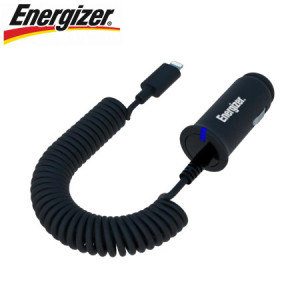 Slowly, more and more Lightning accessories for the iPhone 5 are becoming available. Today, we're announcing a new Lightning car charger made by none other than Energizer. It's called the HighTech Apple Lightning Cable Car Charger.
The charger provides 1 Amp of power, which means it can charge your iPhone 5 iPod Touch 5G or iPod Nano 7G at full speed and the iPad 4 at partial speed. If you want to charge the iPad at full speed, you'll need a 2.1 Amp charger.
The car iPhone 5 charger has a coiled cable that keeps things tidy without relying on a winding mechanism. The cable is six feet long when fully extended, allowing you to charge your phone even when it is being used by a passenger or sitting in the back seet. There's also an LED indicator that shows the charging status of the phone so you can know when your device is done charging.
If you're looking for a high quality 1A Lightning car charger, then the Energizer HighTech should be a good option. Be sure to check the product page linked below for the latest stock and pricing information, as well as more information on the charger's capabilities.
Thanks for reading – be sure to let me know what you think in the comments below.