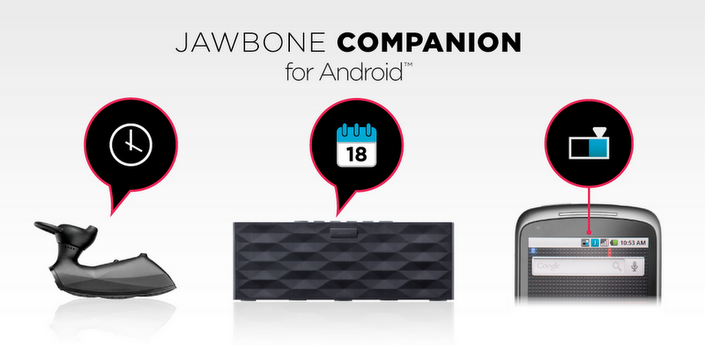 Audio specialists Jawbone have released a new app for users of their speakers and Bluetooth headphones who are running Android. The app, called Jawbone Companion, adds a couple of really useful features to your smartphone. Let's have a look.
The first killer feature is the ability to see your Jawbone's battery life indicator right on your phone. You'll get a little icon on the top left of your handset, showing precisely how much battery power is left – you'll never be surprised again.
The next feature is a brilliant one too – calendar alerts piped directly through to your speakers or headset. Any calendar alerts that are trigged when you're connected will automatically be broadcast, so you'll be able to make it that meeting on time. You can even dial into conference calls with a push of a button, password and all.
If you've got LiveAudio support on your Jambox, you can toggle it on or off from your handset. As well as doing it in the app, you're also provided with a handy widget that does the same deed directly on the home screen.
Finally, you're able to get instant information from your speaker or headset. You can press the talk button to learn what calendar events are coming up, what battery life is remaining and what the time is. Very useful stuff!
If you've got a Jawbone headset or speaker and you're running Android then it's a no-brainer – download the Jawbone Companion app.
If you've got a Jawbone Jambox, Big Jambox, Era, Icon HD or Icon then you can download the Jawbone Companion app right now. The app is available for free in the Google Play marketplace via the link below, and is compatible with all Android OS 4.0 and 2.3 devices. Some Android 2.2 phones work too.
If you've got any questions or comments, feel free to leave them below in the normal space. Thanks for reading and have a good day!