Usually we produce Top 5 or Top 10 lists for a given phone that have a look at the standard items – screen protectors. Cases. Maybe a car holder or two. But the Galaxy S III is looking like the biggest handset of the year and we can do better. This time, we're looking at 12 accessories in detail, including accessories way outside of our normal purview for our ultimate accessories article. Let's get into this article!
12. Philips Micro-USB Android Speaker Dock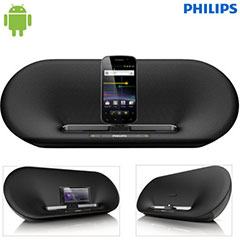 A speaker dock serves as a combination charger and speaker system. The Philips Speaker Dock has got to be the top Android speaker dock on the market, offering excellent sound quality and clever features you won't find anywhere else.
You'll notice this right from the beginning, with the customisable FlexiDock platform. Instead of being fixed to the chassis of the speaker as you'd mind in most docks, the micro-USB connector can be moved into any orientation so you can enjoy both landscape and portrait orientations at your leisure. This customisability also means that you can plug in almost any Android smartphone or tablet, no matter what position and orientation its micro USB port is. You're getting a speaker dock for life, not just for the S III.
The Galaxy S III will connect to the speaker over Bluetooth, a process that will happen automatically once you download the Philips Fidelio app. There's also a DockStudio app which allows you to do much more with the dock than just play music or charge your phone. The DockStudio app includes internet radio stations, an excellent local music player, easy music sharing and a Clock mode. This last mode turns the dock into a useful radio alarm clock, allowing you to wake up to customised music alarms and up-to-date weather reports.
Of course, the aural performance itself is excellent – you've got two 15W speakers that can fill a large room with crystal clear sound. The speaker makes use of unique shielding technology so that there'll be no interference either. You can control the speaker dock with an included remote, so you don't have to go up to the dock when you're charging your phone on it.
This is the ultimate Android sound system and it works perfectly with the Samsung Galaxy S III.
As well as the flagship AS851/10 model, there's a smaller AS351/05 which adds battery-powered operation, but uses a single 10W speaker and doesn't include the remote. You can find more information about both models at the links below:
11. Samsung Galaxy S III MHL Adapter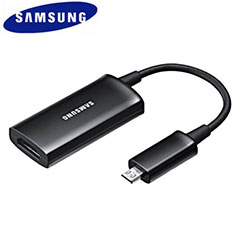 This official adapter for the Galaxy S III allows you to mirror your S3's display on an HDMI-equipped monitor, projector or HDTV. It uses the MHL protocol, which allows for simultaneous charging and display output – in practical terms, that means you're plugging in an HDMI cable and micro USB cable into the adapter. With these cables in place, your phone will stay charged when you're using it in the rather power-hungry HDMI output mode.
Connecting your S III to an external display can open up a new world of possibilities. For example, it's an ideal way to watch YouTube clips or full 1080p videos on the big screen, with video and audio outputting flawlessly. Gaming is also greatly enhanced; with the S3 connected to your HDTV and a Bluetooth game controller in hand, you'll be able to use your S3 just like a console thanks to its powerful internals. Finally, you can even use the MHL adapter for work – if you need to show off a presentation then you don't need a laptop, you can just plug your phone into the projector.
This is the best option for HDMI out on the Samsung Galaxy S III.
If you've already got a Samsung MHL adapter from an older phone like the Galaxy Nexus or Galaxy S II, unfortunately it doesn't work with the S III without using the Galaxy S3 HDTV adapter tip.
10. Sony NFC SmartTags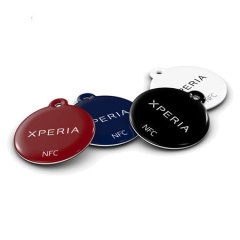 The big idea behind NFC tags is that they can automate things that you do often on your phone when you're in a certain situation – for example, you might turn off your notifications and turn on your clock app each night before you go to sleep. You could just put a programmed NFC tag on your night stand, then touch it to automatically perform those actions without having to move your tired arms and addled brain.
Of course, there are a lot of other situations in which NFC tags can be fantastic. Imagine keeping an NFC tag in your car holder to automatically turn off Wi-Fi, turn on GPS and start your navigation or music app. Or keeping an NFC tag on your keychain that sends a text message to your spouse to let them know that you're on your way home.
While Samsung have come out with their own NFC tags, at the moment Sony's SmartTags seem to have the edge – and you can use either app with all Android phones. SmartTags are more readily available and come in a more useful metal form factor that's perfect for hanging on a hook or on a keychain, so we'll give them the nod here in front of Samsung's TecTiles.
9. Case Compatible Charging Dock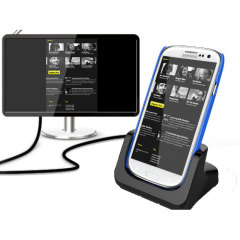 This Case Compatible Desktop Dock is custom-fit for the S III, and is a stylish option for keeping your phone charged up, easily accessible and connected to your HDTV or monitor, with or without a case.
The rear of the dock includes micro USB and HDMI, allowing you to charge your phone and use HDMI display mirroring simultaneously. That means it's easy to show off movies, presentations or games on a bigger screen, whether it be a projector, monitor or HDTV. The dock will also provide the full 1A of power that the S III needs when connected to a suitable power source, and if connected to a PC will allow for syncing as well.
A good alternative to the Samsung Desktop Dock is the Clingo Universal Podium, which offers 360 degree rotation and easy access to each side of the S III. This is a better choice if you spend a lot of time using your phone in landscape mode, but doesn't include an integrated charger.
8. Allshare Cast Wi-Fi Display Hub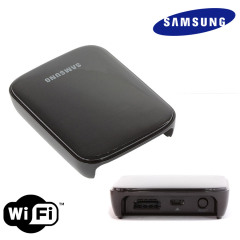 This is the real accessory to get if you're a media enthusiast – the AllShare Cast Wi-Fi Display Hub. With this plugged into your HDTV or monitor, you'll be able to watch movies and listen to music from your Galaxy S III at the push of a button.
It's similar to the MHL-capable adapters and docks that we looked at earlier, but it works with no wires and offers the same full HD quality. Just like those accessories, full display mirroring is supported so you can see any app you use on the big screen – including games, presentations and media.
The Samsung Galaxy S3 is a power media titan with its quadcore processor, 1 GB of RAM and up to 64 GB of storage, so truly unlock its potential with easy wireless mirroring to your favourite external display.
7. Jabra Freeway
The Jabra Freeway is a powerful, easy-to-use and universally adored Bluetooth car kit.
It offers unparalleled sound quality and loudness, with three speakers for virtual surround sound. As well as allowing you to take and make calls, the Jabra Freeway supports A2DP streaming for playback of music, podcasts or GPS navigation directions. This really lets you hear the quality of the Freeway's acoustics. If your car already has a great speaker system, you can also use the Freeway's FM transmitter functionality to listen to calls or your music over your car's FM radio.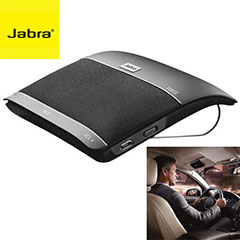 The Freeway has been designed to be easy to use, and it really delivers on this point. You'll be kept informed about incoming calls, battery levels and your connection status through voice feedback. You can even make and take calls with your voice, allowing you to go completely hands-free. With fourteen hours of talk time and more than 40 days of standby time, you won't have to think about the Freeway  – it'll just work when you need it to. For something that you don't need to have professionally installed and will go with you when you move cars, it's an impressive showing.
The Freeway currently sitting at an average of 4.8 stars out of 5 with 15 ratings: 12 five star reviews and 3 four star reiews. That level of satisfaction really underscores the quality that permeates the Freeway, making it our top recommendation for the Galaxy S III.
Another good alternative Bluetooth car kit is the Parrot Minikit, which is a combination smartphone car holder, car charger and hands-free kit. If you're looking to solve all of those problems and audio loudness / quality is less of a factor then it's a great option that still provides you with a universal solution you can continue to use even after you upgrade from the S III.
6. Sony SmartWatch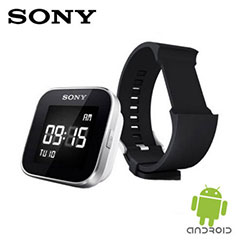 The Smart Watch is another example of an interesting accessory that's starting to gain ground for Android devices and is perfect for use with the Galaxy S3.
It's essentially a watch that can run apps and connects to your phone via Bluetooth. That means you can use it for receiving incoming notifications – you can see at a glance when you get a text message, email or social media mention, even if your handset is in your pocket or your bag. The watch can even vibrate on your wrist for the ultimate, unmissable notification.
You can also run simple apps that look great on the full colour LCD display – everything from Weather apps, Twitter clients and Music remote controls. As well as the apps that come with the phone, you can download more online made by the burgeoning community or even develop your own using a fairly simple to learn API and tutorials.
Of course, the SmartWatch is fully compatible with the Galaxy S3 – just download the app from the marketplace, pair with with the watch and you'll be ready to go. The SmartWatch can also be attached to any 20 mm wristband, so if you'd like to change the look you can do so easily. All in all, it's a cool little accessory that brings the power of your S3 directly to your wrist.
5. Brodit Active Holder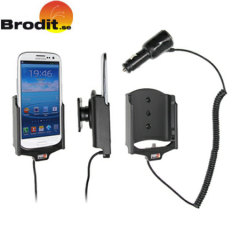 The Brodit Active Holder is the finest Samsung Galaxy S III car holder that has yet been produced, with an integrated micro-USB charger that provides a much more streamlined approach than separate holder and charger configurations. There's also tilt-swivel functionality, allowing for easy transitions between portrait and landscape modes as well as making smaller adjustments to avoid glare and reflections. The Active Holder is built specifically for the Samsung Galaxy S3, so you can be sure of a perfect fit each time.
If you would prefer the combination of the official Galaxy S III car holder and a in-car charger, make sure you pick up a car charger that provides at least 1 amp of power, like this Naztech Stealth microUSB charger. At lower amperages, you may find that your Galaxy S III will charge slowly or even lose charge over the course of a long car journey.
4. a-Jays One+ Earphones
The a-Jays One+ Earphones surpass what you'd expect from a pair of Android in-ear headphones. Sound quality, design and software are all areas in which these headphones excel, with the Swedish design house proving its chops yet again. While the headphones that come with the S III are OK, the One+ provides an upgrade in almost every area.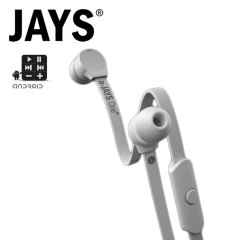 Sound quality is the most obvious one – the One+ is powered by 8.6mm drivers that blow the Samsung headsets out of the water. With a choice of five pairs of silicone ear buds, you'll be able to get the perfect fit too – no more headphones that fall out at the slightest provocation or are impossible to cram in. With the excellent noise isolation that a good fit provides and the powerful speakers, you'll be able to enjoy your music in a warm and rich soundscape.
The physical design of the One+ is another distinguishing feature. The headphones use a flat TPE-coated cable that's more comfortable to use when lying in bed and is less likely to be tangled in your pocket. They look quite nice as well, allowing the name to be printed on the cable rather than on the earbuds themselves, which are plain black. The cable ends in a right-angle jack which is more durable than the more common straight jack.
I was surprised to learn that the One+ came with an Android app, but it actually makes a lot of sense. With only one button on the in-line remote, multiple taps mean different things – one tap to play, two to skip forward, three to skip back, click and hold to raise the volume. The app allows you to set all of these mappings just as you like, so you can choose whatever makes the most sense to you. There's also the option to set the delay between taps or turn on audio feedback for phone actions, so your headset will give audio feedback as you change volumes, launch apps or perform phone actions. It's clever stuff, and the real beauty of it that you just set it up once and then it'll run in the background.
The One+ sits above both the default S III headphones and Apple's latest iPhone headphones – with better sound quality, a sleeker design and more powerful software, there's no reason to settle for a half-rate experience when these headphones are available at such a low price.
3. Mobile Fun Connection Kit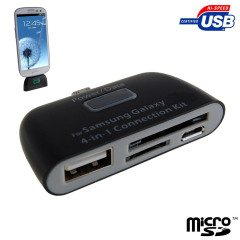 This custom-designed connection kit provides a whole host of extra functionality to the Samsung Galaxy S III. The connection kit plugs into the S3's micro USB port and adds three additional ports – USB, micro SD and SD.
The micro SD and SD ports allow you to add in flash storage, making it easy to copy files from other phones, cameras or camcorders. You could use it to copy your photos to your S3, then plug in an MHL adapter to show off the pictures to your friends on an HDTV.
The USB port has a little more functionality, allowing USB flash drives to be plugged in but also supporting USB keyboards and mice. That means that you can enjoy a near-desktop experience, thanks to Android's excellent keyboard and mouse support. Plug in a keyboard via USB and connect a mouse over Bluetooth – now you can browse the web and write longer form text easily, just as you would on a desktop PC, albeit with a slightly smaller (but not particularly lower resolution) display.
Finally, the Connection Kit also includes a micro USB port, allowing you to charge or sync your S3 in the normal way while you're using the other ports of the Connection Kit.
The Mobile Fun Connection Kit is a clever chunk of connectivity for the S III that can really let you expand the way in which you use your S III.
2. Sony SmartWireless Headset Pro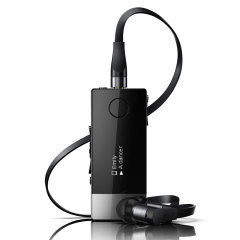 Gosh, what is it with Sony and Smart devices that work well with the Samsung Galaxy S III? The third such item on our list is the Sony SmartWireless Headset Pro, a stereo headset designed for Android phones. It combines the sound quality and features of a good set of analogue in-ear headphones with the convenience of a Bluetooth connection.
The headphones themselves are of very high quality: the sound is clear and the bass is punchy. The cable is flattened to reduce tangles – this is a well designed set of in-ear cans. If the headphones aren't to your taste, you can even plug in your own set of headphones over the 3.5 mm stereo jack connection.
The in-line remote section of the headset includes a large number of functions that you just won't find on most headsets. It all starts with a built-in SD card slot, which lets you turn the headset into a personal MP3 player so you can keep on listening even if your S3 runs out of battery. There's also an FM radio if you'd prefer to listen live rather than to your own music.
The remote section includes a screen that will display the currently playing track, incoming messages and other notifications.  You also have the option to have this information read out to you using text-to-speech. There are also hands-free capabilities (including a dedicated answer call button), so you can make and take calls easily. Music will be automatically paused when a call comes in, and will resume once the call concludes. You can even use the headset to help locate your S3 if you lose track of it.
It's this flexibility that makes the SmartWireless Pro such a good option for the Galaxy S3.
1. Tech21 Impact Snap Case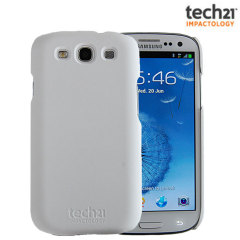 Tech21 made a splash a few years ago with their unique D3O material, which is a dilatant non-Newtonian fluid that reacts rather incredibly to shock – the normally free-flowing material locks together to absorb and disperse energy. It's an innovative and high-tech solution to one of the biggest problems in mobile computing – actually protecting that expensive hunk of silicon.
It's this material that lies at the heart of the Tech21 Impact Snap Case, where it provides unparalleled shock and impact protection. As well as protecting the rear, sides and corners from impacts, the raised lip at the front ensures that the screen remains protected when the phone is placed face down.
This sleek and stylish Galaxy S3 case is one of the best options available for the Samsung Galaxy S3, using advanced materials to achieve phone protection that's almost out of science fiction.
Of course, there are a lot of other good cases available for the Galaxy S III that rely on more common materials. The Samsung Galaxy S III Ultimate Pack offers six accessories in one low-cost pack – including a Flexishield case – and the genuine Samsung Mesh Vent Case cools down your Galaxy S III and even includes a convenient coin slot that adds a kickstand on demand.
Conclusion
So there we have it – twelve brilliant accessories for the Samsung Galaxy S III. I hope you found the article interesting – if you did, please share it with your friends. If you've got any questions, feel free to leave them below or contact us via social media – Facebook, Twitter and Google+.