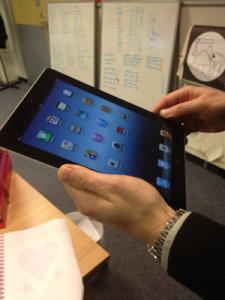 The new iPad or iPad 3 as we're calling it has arrived!  We've got one floating around the office whilst products test it out with all the new iPad accessories we have, to ensure the perfect fit and compatibility.
We've all been a little obsessed with the Draw Something game here at Mobile Fun HQ, so one of the first things we did on the new iPad was to test out our drawing skills on the iPad and see how much better the visuals looked than on our phones.  It's fair to say we were all pretty impressed.  I won't show you our drawings though because they're pretty terrible!
Anyway to celebrate the arrival of the new iPad, I've put together a list of my favourite five iPad accessories:
Hard Candy Stylus
Belkin Folio Case with Storage
Just Mobile Gum Plus Charger
Griffin PowerDock Dual
Gear4 Angry Birds iPad 3 cover
Let's take a look at them all in some more detail…..
5.Hard Candy Stylus
The Hard Candy stylus has been around for a while now, so I'm going to call it my old favourite.
Sporting a stylish silver design, the stylus has a ballpoint pen at one end and a capacitive stylus at the other, meaning it's easy to switch between writing on paper and typing on your phone.
This iPad stylus is great for using for apps like Draw Something, as well as typing messages and emails, as it increases your accuracy and means you can work just that little quicker.
Lightweight and highly portable this stylus can just slip into your pocket or your bag, so it's ready to use whenever you need it.
The gorgeous design of the stylus is perfect for professional use as well as social and as it's compatible with any touch screen device, is perfect for use on your smartphone and tablet.
I've tried this stylus out with Draw Something and I will admit that it made me drawings look a lot better – more like a ten year old drew them now, rather than the three year old style drawings they were before!
4. Belkin Folio Case with Storage
Making number four in my countdown is the Belkin Folio Case with Storage.  This is a stunning case (and not just because it's pink), protecting your new iPad from every angle, whilst adding that much needed splash of colour.
Thin, lightweight and very durable, this iPad cover doesn't add a lot of bulk to your new iPad but comes complete with a very handy storage pouch.  This means you can store notes, tickets or whatever you need so they're easy to find whilst you're on the go.
Another great feature of the cover is that the fold cover, folds back to create a stand with multiple viewing angles, so you can type, swipe and surf at the most comfortable angle for you then protect the screen of your iPad when you're not working.
As you'd expect this case has all the cut-outs needed to keep your iPad fully functioning at all times including a cut out for the charging port, headphone jack and other features.
It's a stunning case which cushions your iPad, as well as protecting it from day to day damage – a definite winner in my books.
3. Just Mobile Gum Plus Universal Charger
Battery life is always a problem with tablets, as we want to use all the features and play apps all day long, but then get pretty annoyed when we see the battery life drain.
I'm the same with my iPhone, so to solve my problem I always carry an emergency charger or 'battery booster' as I call it with me, so that I can juice up at any time.
The Just Mobile Gum Plus battery is a great emergency iPad 3 battery.  Pumping out 4400mAh it has enough power to keep your new iPad going for longer, so you can complete more work on the go or play more games.
The battery comes with an Apple charging cable too, so you don't have to worry about finding one; but the great thing about this is that you can play in any other USB charger to the Gum Plus but you'll need your own cable for that.
Highly portable and stylish, the award winning Just Gum is the perfect handbag or briefcase accessory, ensuring you have power in your iPad, whenever you need it.
2. Griffin PowerDock Dual
Taking the number two spot on my list is the Griffin PowerDock Dual.  What I really like about this is that you can dock both your iPad and iPhone/iPod at the same time.
I think this iPad dock is a great organisational dock, as it's the perfect place to keep your iPhone and iPad when they're not in use.  The included tray means you can even put your keys or spare change on there.
You can still use your iPad or iPhone whilst it's docked in the Griffin PowerDock and docks your Apple accessories at great angles for viewing media and surfing the web.
The dock comes complete with a number of mains adapters, so you its the perfect companion for those who frequently travel, as it's compatible in a number of countries.
Providing storage, battery power, a great view and a great organisational accessory, the Griffin PowerDock Dual is the ultimate accessory for any Apple fan.
1. Gear4 Angry Birds Case
Topping my countdown is those mighty, mighty Angry Birds.  I'm a massive Angry Birds fan and I will admit I have an Angry Birds case for my iPhone.
The new range of Angry Birds iPad 3 covers are really cool – there's four to choose from (Red Bird, Pig King, Black Bird and Black Bird Don't Get Angry) but the yellow Don't Get Mad Get Angry case is definitely my favourite because of the slogan.
These covers simply snap onto the back of your new iPad, protecting it from day to day damage through scratches and scrapes.  The ports and features are still free to get to though, so your iPad remains fully functioning whilst in the case.
Easy to attach and remove, the Angry Birds iPad cover range follow on from the previous Gear4 Angry Birds covers for iPhone and iPad – but these are brighter and meaner.
Choose your allegiance and your side in the Angry Birds war and display it proudly on your new iPad!
So there's my top 5 but which accessories would make your top 5?  Let us know through the usual channels!