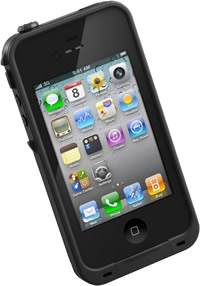 The
LifeProof Indestructible Case
is a rather amazing and well respected iPhone case that you may not have heard about – it's certainly new to Mobile Fun!
These iPhone cases, which come in Black and White versions, offer an insane amount of protection from pretty much everything that threatens your mobile. It's got IP-68 certification for protection against water and dust, and also provides a high degree of shock and impact protection and has been tested to military specifications – both US and UK.
The LifeProof iPhone case allows lets you use your iPhone underwater, up to 2 metres or 6.6 feet. There's even a swimming headphone adapter that lets you use waterproof headphones underwater, which must be the most relaxing thing imaginable.
Most high durability cases add loads of bulk to your iPhone, but the LifeProof case adds only 1.5 mm of thickness to your iPhone – barely more than a standard silicone case. It also weighs less than 30 grams, making for an extremely convenient protective solution.
The case still allows for full functionality while in operation, including optical glass lenses for perfect photographs and covers for each button. Rather amazingly, the case even improves the sound of the internal speaker by using the back of the case as a subwoofer – magical stuff, there.
Want to know more? Have a look at our LifeProof category page for all models, or head straight to the LifeProof iPhone case product page. If you've got questions or comments, we'd be happy to take them off your hands via the comments section below these words.