Have you finally got your licence? The wait is finally over! Your new car has never looked shinier and is exciting to take you from Mcdonald's drive-through to faraway wonders. We have picked out the best car accessories that will enhance your driving experience so you never will go without in your car. From a vent phone holder to a place to hold your fast food dips, we've got you covered!
---
1. 
Olixar Gravity Car Phone Holder (Mount your Phone on your Car's Vents!)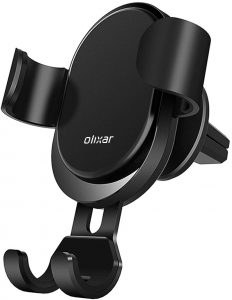 Our favourite new driver accessory that you must have in your car is Olixar's inVent Car Holder! No more getting lost or having to ask your passenger for directions, as you can mount your smartphone onto your vents, so you do not even need to block off any of your windscreens!  It is very sturdy and will not budge off of the car's vents while you drive. The car vent holder is one of the best, as it is very easy to set up and use on the go, even if you have never used one before.
The vent phone holder allows for an easier transition with an auto clamp feature, allowing you to simply place your smartphone into the holder, and ensuring that the clamp tightens around as not to fall out. The car holder accommodates devices from a width of 70mm up to 90mm in width ensuring it fits with most smartphones, even if it stays in a bulky phone case for extra protection.

---
2. Air Vent Dipping Sauce Car Holder – Twin Pack (No more dry fries!)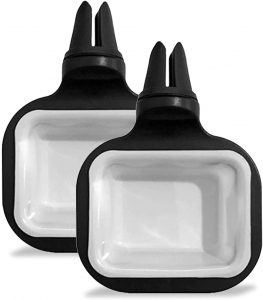 If you have been waiting to go for Mcdonalds runs in your new car with friends or family but want some BBQ dip, then we have the accessory for you. The Sauce Holder for Car Vent allows you and your passenger to have separate dips on the go, so you no longer have to balance and potentially drop it all over. It is a two-pack so if there are any disagreements on the favourite sauce, you can both have your choice displayed on the vents. 
This Sauce Holder for Car Vent is the ultimate gift for anybody in your life, from new drivers to regulars, from young to old! This car accessory will make the simplest pleasure even greater and amplify the nugget experience. It fits most fast sauce pots from the likes of Taco Bell to Mcdonalds and more, so get dipping away!

---
3. Headrest Mounted Food & Drink Storage Tray (Comfortable Drive and Eat Experience!)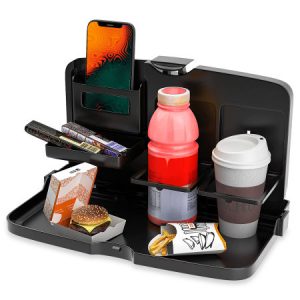 Want the perfect car accessory that will prepare you for all the upcoming road trips? We have it right here for you! Buy yourself the Headrest Mounted Food & Drink Storage Tray that can hold all of your items for the passengers that come along with you. It securely attaches to the headrest so that nothing will move throughout the journey. It easily folds up against the back of the chair when it is not needed, to keep the space clean and tidy, leaving lots of room for the passengers to move around.
Prevent drink spillage, especially in a new and tidy car with this car tray, that has two un-build cup holders. There are a few pouches and compartments such as a closed snack slot, table tray, and even a phone holder so you can ensure not to drop your device while eating your food. The actual tray is large enough to balance a tablet for viewing a movie on the go to keep the little ones entertained throughout the journey.

---
4. RFID Car Key Signal Blocking Pouch (Keep away thieves!)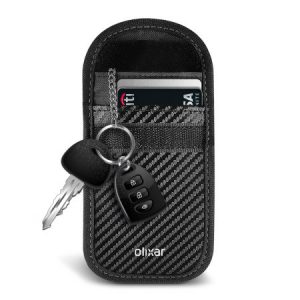 Have a keyless car? Protect hackers from being able to access your car with Olixar's RFID Car Key Signal Blocking Pouch! There is an unfortunate rise of car theft is linked to the number of cars featuring keyless entry and keyless go technology such as house fobs that lead to protective measures needed. RFID technology is here to save the day which ensures that these criminals cannot use signals to break into your property. It intercepts the signals between your keyless car and the criminal to keep your car, yours!
Olixar's Faraday bag is in a luxurious carbon fibre design that can hold multiple contactless credit cards and a car key or home fob while protecting them all. It is a handy and durable design, which fits into a handbag or pockets so it can be carried out on a night out or on the go on a day to day basis.

---
5. HD Wide-Angled Motion DVR Car Dash Cam (Protect yourself from bad drivers!)
While new drivers are given a bad rep, anyone can feel a little nervous on the road and feel like they have no proof of bad drivers around them. Aquarius has provided the 720p HD Wide-Angled Car Dash Cam! This vehicle camera is mounted with an integrated G-sensor which automatically detects sudden shakes/collisions and locks the footage to prevent the video from being overwritten even in loop recording mode. It comes with a 90° wide-angle lens for the ultra-wide field of view recording reduces blind spots and captures more details, to reserve the real scene, even if you didn't see it.
The dashcam is very easy to set up as it comes with a suction cup mount and can go onto your vehicle's windshield. The 720p HD camera provides crystal clear imagery and can give you date and time stamps. This is incredibly helpful for any bumps on the road to provide to insurance companies, so you know you will get the correct compensation at all times.

---
6.  Olixar Wireless Hands-Free Car Kit – Dark Grey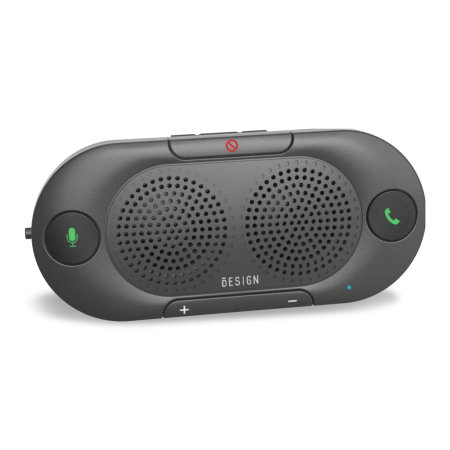 Compatible with all bluetooth phones, this Olixar wireless hands free car kit in dark grey is one of the best accessories to have with you whenever you are out and about in your car. The Olixar wireless hands free car kit is quite easy to use, without the need of installation. All you need to do is clip the hands free to the sun visor and enjoy your wireless hand-free car kit.
A perk that comes with this wireless hands free is that it offers dual device connection, so you can connect both your personal and business phones to the device and not miss any important calls. Another perk that comes with this device is that you get 15 hours of talk time and 1250 hours of standby time!

Wrapping Up
We hoped you enjoyed our blog on the Best Car Accessories for New Drivers 2022! If you want to know more about any of the products mentioned in this blog or to see even more products available, please click here!
Alternatively, check out our video below on some of the amazing car accessories!
---
Georgia Ryall
Georgia Ryall is the Amazon marketplace apprentice, soaking up all the information like a sponge! After studying Media & Communications at University, is now stepping out to the digital marketing world and wants to learn it all! A huge lover of digital marketing, movies, and gaming (particularly her PS5!)
---