Excited to get or even have your hands on a Samsung Galaxy Z Fold 3 5G – who isn't? As we saw from Samsung's Unpacked event (11/08/2021) the new device has many amazing immersive features: multidimensional sound, a PC like experience, water-resistant & a screen that won't quit…
With a new device that is so exquisite like this, it's a no brainer to want to protection so that it can stay pristine for as long as possible (& stylish). So let's have a look into some of Samsung's best official cases for the Z Fold 3 5G.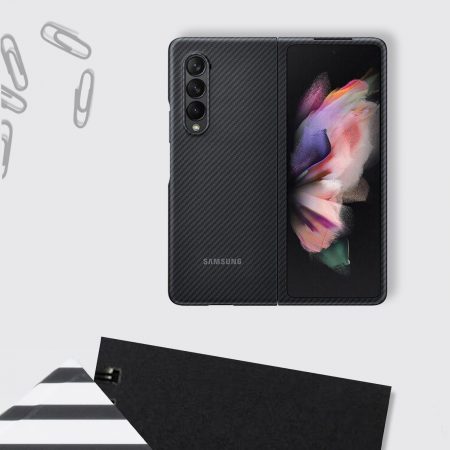 Available for £64.99/ $89.38
Starting with this Aramid case from Samsung, it's sleek, minimal design offers maximum drop protection made with aramid carbon fibres (which embodies heat-resistance & strength) reassuring you that your phone will always be safe. A textured, tactile surface enhances grip traction, so that your device won't go slipping & sliding away from you whilst in use.
Whilst having this premium protective case, its slim, lightweight nature means you don't have to stress about any extra added bulk that some phone cases incur. It has easy access to all ports & is Qi friendly so you can charge you new device on the go, wherever or whenever.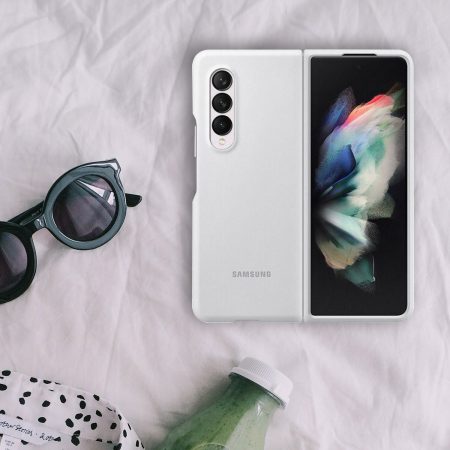 Available for £34.99/ $48.12
Cradling your Z Fold 3 5G in a silky, matte silicone material this case protects against scratches & drops. Durable & long lasting; the case runs sublimely in line with the Z Fold 3 5G, giving edge to edge protection & with a raised bezel you know each one of your screens are out of harms way. With a secure grip from the silicone you are able to keep hold of your phone for countless hours without any worry of accidental falls.
It's an all round protective case that has your device in safe hands even when it's out of yours. The white colour is fresh & minimalistic, creating a humble aesthetic that is slim & lightweight. Ready to take on your next adventure!
(Want more of a bold look? It also comes in black & green)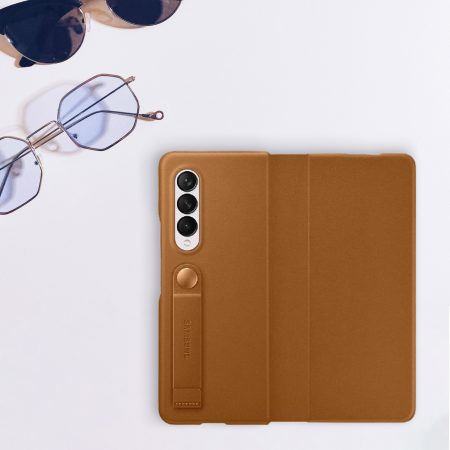 Available for £84.99/ $116.89
If you're looking for a more luxurious aesthetic, this genuine calfskin leather case in a beautiful camel colour is the one! It has supreme style whilst being fully interactive with the Z Fold 3 5G. The case has a auto-wake function so you can just flip it open & your device just lights up allowing you to get stuck into your next interaction. Done for the day? Simply just flip the cover closed & your device is in sleep mode – creating a streamlined, performance enhancing experience for you & your phone. The case even has a loop that sinks into the exterior, folding in & out whenever you need the options on holding your device securely.
The case protects from scratches, scrapes & impacts whilst still maintaining its great physique. Ultra slim this flip case attaches to your device with ease with full access to all ports & features.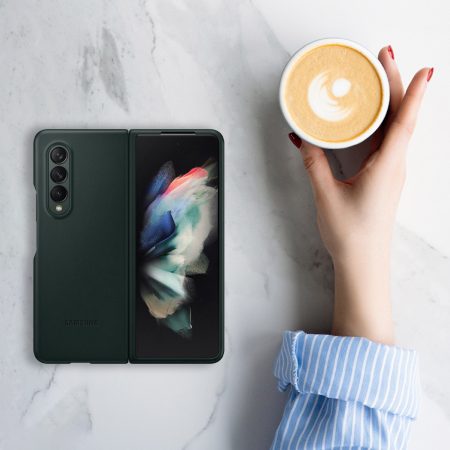 Available for £74.99/ $103.14
Similar to the camel genuine leather flip case this green leather case possesses many of the same qualities. The genuine leather feel is premium & with a slim fit it has a non-slip grip that reduces the risk of any drops, scratches & impacts. The case attaches with ease to your Z Fold 3 5G, with no extra bulk & complete access to all ports & features.
The differences between this genuine leather case & the one above, is that this case does not have auto-wake & a flip loop for the added security of holding your device in various ways. This does not make this case any less of a contender to be a good case. It's durable & bold, you can definitely make a statement whilst providing complete protection to the device you love.
Feel secure with this stunning, Official Samsung Z Fold 3 genuine leather case.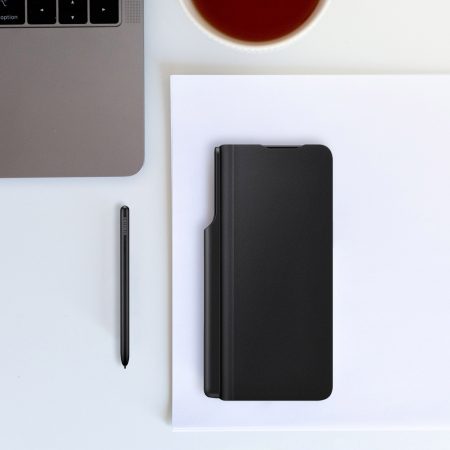 Available for £74.99/ $103.14
Our last case, a clean cut black flip case that comes with an S Pen Pro & holder! Yes that's right, this case comes with the smartest stylus on the market & a holder that protects it. The S Pen Pro is compatible with the Z Fold 3 5G; featuring, pressure sensitivity (with 4,096 pressure levels),rapid response times & precise accuracy. It's the ultimate case that gives creatives, business types & all else the room to have the best experiences possible.
The case itself offers 360° protection, with a S Pen holder to ensure your pen is kept safe on the go. The flip feature provides auto-wake which lights up your screen & powers it down when in & out of use – again creating a streamlined, performance enhancing experience for you & your phone. The genuine leather material acts as a sophisticated wrap that can be installed onto your device with ease.

Wrapping Up
Being official products of Samsung, these cases are made to the highest quality by Samsung for Samsung users. Tailor made for the Samsung Galaxy Z Fold 3 5G, each case offers a perfect fit & does not impede any use of features or functions on the device. Keeping your device looking stylish & humble all in one!
We hope this article shared some insight on the new Samsung Z Series & some of the best ways to protect your new device.
Thank you, we appreciate your time. If you have any comments or questions to add, pleases leave them below.
Junita Minhas
Junita is a digital marketing apprentice that is finding a new found passion in technology & developing her creativity.