Managed to get your hands on the PS5? Congratulations on making that happen! (I am so not jealous…) Here is the list of the top 5 best PlayStation 5 accessories that you can buy now. Want to use your own headset with the PS5, or use the DualSense to crush Mobile gaming? That and more to read on!
---
1. 
Extra Long PS5 Charging Cable (No more sitting on the floor!)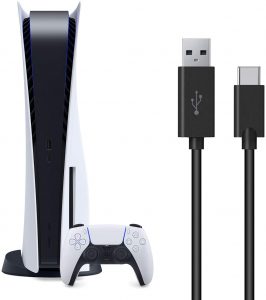 If you are looking for a great value, fast charging cable for your Playstation 5, then this is the one for you! The Olixar PS5 Extra Long Charger Cable for PS5 (3m!) means you do not have to sit on the floor when your DualSense needs charging!
Our favorite for 2021 is the 3m Charging Cable for the Playstation 5, allowing for accessible play on your gaming chair or bed for comfortability! The PS5 charging cable also has a reversible USB-C connector to ensure ease to immerse in the gaming.

---
2. PS5 Mobile Gaming Controller Mount (Mobile Gaming has never been smoother!)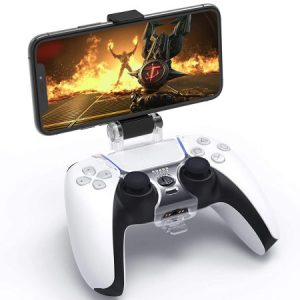 Do you love mobile games but hate pressing on the tiny screen? Minimizes the epic battle feel. The Mobile Fun Playstation 5 Phone Mount allows you to slot your device onto your DualSense controller and play expertly with the best controller!
Designed for comfort, the Playstation 5 dualsense stand mobile mount can be used at home or on the go, easy to attach with your device! The compact design allows to fit most devices in cases, and allows for your headset to be plugged into your PS5 controller also for the best play!

---
3. Wireless Bluetooth Headset Dongle For PS5 (No wires, No mess!)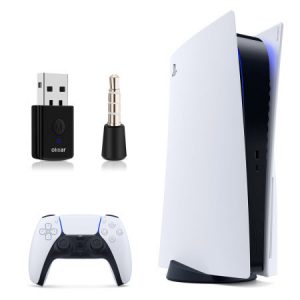 Do you want to use your Bluetooth headset to immerse yourself in the gaming world? Grab this Wireless PS5 Dongle with Bluetooth so you do not need to buy overpriced headsets to fit the controller. With two simple elements, it allows a simple, mindless, and clean process to use your gadgets together!
The Playstation 5 Bluetooth dongle also cleverly has a microphone with high sensitivity inside, so you don't have to worry about having your DualSense controller too close, and play as you normally would! The wireless dongle for PlayStation Five is also extremely easy to install as it comes with a dongle already ready to give your ps5 a Bluetooth profile! A two-minute job has never saved you more money!

---
4. PS5 Controller Protective Crystal Case (Extreme Protection that it deserves!)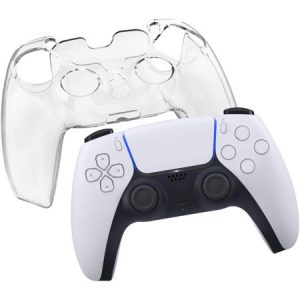 Finally, got your hands on the new PS5 and want to protect your DualSense controllers? The Playstation 5 Controller Protective Crystal Case will ensure that no dents or smudges can touch the beauty of them! Even if you are snacking on the job, this case will protect your controller from excess food!
The PS5 controller crystal case will give you excellent grip while playing with the non-slip, hard plastic coating, so no slipping on the squad! Even with the extra grip and shockproof protection, this exquisite controller case is lightweight so will not stop the hours of playing with any extra weight.

---
5. PS5 Controller Soft Silicone Case (Soft and comfortable play are so important!)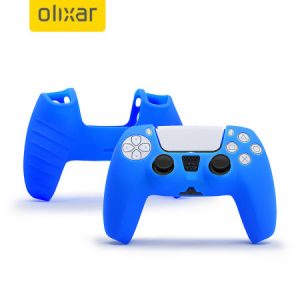 If a hard coating on your dualsense controller is not the feel of gaming for you, there is also the amazing PS5 Controller Soft Silicone Case which gives you the soft feel but perfect grip you need to be at the top of your game! There are also a variety of colours available if blue isn't your colour in the soft silicone cases.
The impact-resistant soft silicone allows for the best grip but the top comfortability without being bulky or heavy during the use of your PS5! Expect hours of gameplay as no added weight will be added. The Playstation Five Controller Silicone Case also comes with the perfect cutouts so that any charging cables can be inserted without any issues and fits like a glove!

---
Wrapping up
We hope you enjoyed our top 5 PS5 accessories to buy right now 2021! If you want to know any more about the Playstation 5 accessories mentioned here or to see even more products available, please click here. Alternatively, watch the video below for more information!
---
Georgia Ryall
Georgia Ryall is the Amazon marketplace apprentice, soaking up all the information like a sponge! After studying Media & Communications at University, is now stepping out to the digital marketing world and wants to learn it all! A huge lover of digital marketing, movies, and gaming (yearns for a PS5).