The Samsung Galaxy S21 features a stunning 6.2″ Dynamic AMOLED display, with their being an improvement made in comparison to it's predecessor, the Galaxy S20.
Samsung are yet to unveil screen repair costs, however considering it involves replacing the battery, we can't imagine replacing the screen on either a S21 will be cheap.
With that in mind we tested and shortlisted the best screen protectors for the Galaxy S21 to help avoid any costly screen repairs.
Our final shortlist for the best screen protectors for Samsung Galaxy S21 finished with the following based on value for money, protection, ease of installation and unique features:
---
Available for £19.99 / $22.99
First up we have this tempered glass screen protector from Olixar. Priced reasonably, this Olixar Galaxy S21 glass screen protector offeres protection against scratching and any impact caused from drops without any issues. This screen protector is also compatible with the S21's under-display finger print reader, however we do recommend turning on the touch sensitivity feature in the S21's settings menu. Olixar also include an installation kit to ensure application of the screen protector is relatively simple and to help avoid any annoying air bubbles.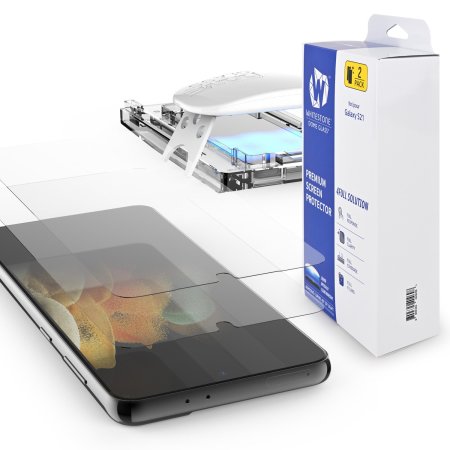 Available for £44.99 / $51.49
The Whitestone Dome Samsung Galaxy S21 Screen Protector provides full cover, edge to edge protection ensuring your S21's display is protected from drops, knocks and scratches. Where the Whitestone Dome protector differs from other screen protectors on the market is the installation process, where it requires the use of a jig, UV adhesive and a UV curing lamp. By doing so the screen protector benefits from a full adhesive application, meaning it's not likely to fall off at any time and still retains touch sensntivity.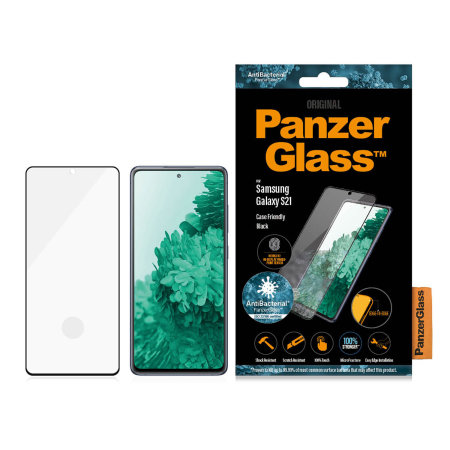 Available for £29.99 / $34.49
With a 0.4mm thickness, this PanzerGlass Galaxy S21 screen protector is extremely thin, yet protective. Designed to have a 9H Hardness rating, this tempered glass protector will protect the S21's display against scratches and external shock. The screen protector also has a useful anti-shatter film applied  to it. By doing so the protector may crack, however stops the glass from shattering and creating tiny pieces of sharp glass. PanzerGlass have also gone a step further by applying a oleophobic anti-bacterial coating, to reduce both fingerprints and any harmful bacteria.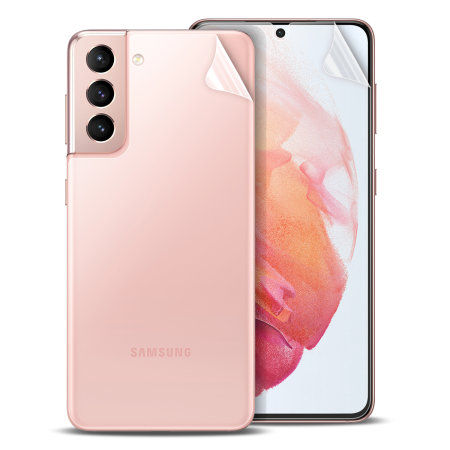 Available for £12.99 / $14.99
The final product to feature is this pack of front and back film screen protectors for the Samsung Galaxy S21. Designed to interlock together, this is a great alternative for those who don't like to fit a case to their S21, yet still want a level of protection against scratching. Being made from film, these protector are less protective then the glass screen protectors mentioned above, however they do bring about the benefit of being ultra-thin and almost invisble once applied. This also results in touch sensitvity and clarity being retained. In terms of installation, Olixar again have included a installation kit to make applying the protectors easy as possible.

Wrapping Up
Thanks for reading this roundup of the best Samsung Galaxy S21  Screen Protectors. We hope that you found this useful and if you have any questions, please leave a comment below and we'll get back to you. Alternatively if you'd like to read further posts about the S21, please click here.
---
Amit Patel