Samsung's latest addition to the popular Note series; the Galaxy Note 20 has arrived packed full of features and in a variety of colours, including the new Mystic Green and Mystic Bronze.
In this roundup we'll be covering the best cases to keep your Note 20 safeguarded and looking great.
---
1. Official Samsung Galaxy Note 20 LED View Cover Case – Mystic Black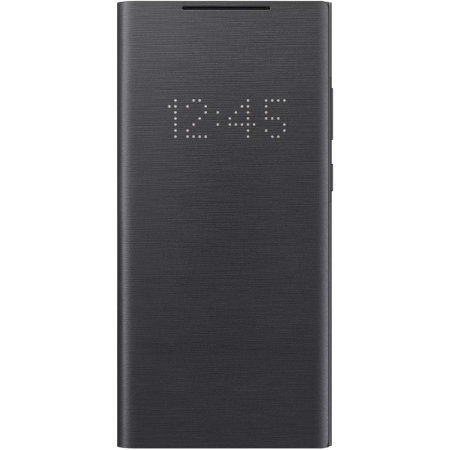 First up is the Official Samsung Galaxy LED View Cover Case, which is aptly named as it features a retro dot matrix design which displays not only the time but also calls, messages, battery status and more.  Available in Mystic Black, Mystic Bronze and Mystic Green, Samsung have designed the cases to match the colour of your Note 20 perfectly. The case itself provides full cover 360 degree protection to the Note 20 and also includes a card slot on the inner, ideal for carrying credit / debit cards, ID, train tickets or anything else of a similar size.

2. Olixar ExoShield Samsung Galaxy Note 20 Case – 100% Clear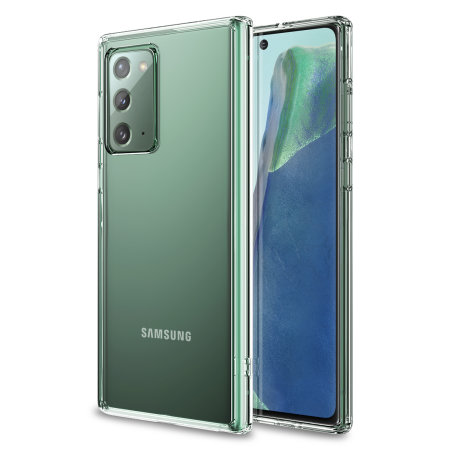 The Olixar ExoShield has been moulded from a robust hard plastic to offer great all round protection against scratches and knocks for the Samsung Galaxy Note 20. Additionally for further protection, the corners have been reinforced to guard against shock caused by accidental drops, while the raised edges on the front of case protect the Note 20's AMOLED touchscreen. Completely clear and finished with a non-slip coating, the case is an excellent way of protecting and showcasing your new Note 20.

3. Spigen Slim Armor CS Samsung Galaxy Note 20 Case – Black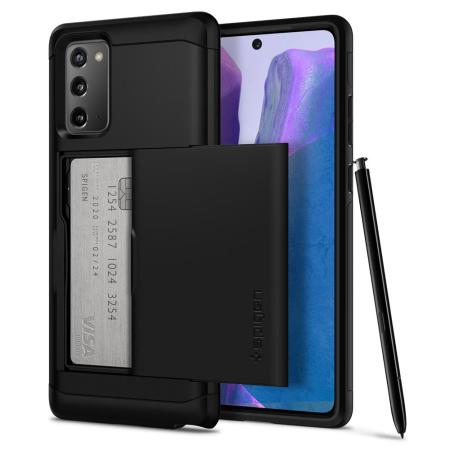 Style, protection and functionality in one, the Spigen Slim Armor CS case provides exactly that. Made from poylcarbonate for a slim design and featuring shock absorbing properties, the cases will protect your Galaxy Note 20 with ease against scratching and drops. Named the Slim Armour CS (Card Slot), the rear of the case has a secure and ingenious sliding black compartment, which can fit up to 2 cards.

4. Official Samsung Galaxy Note 20 Protective Standing Case – Silver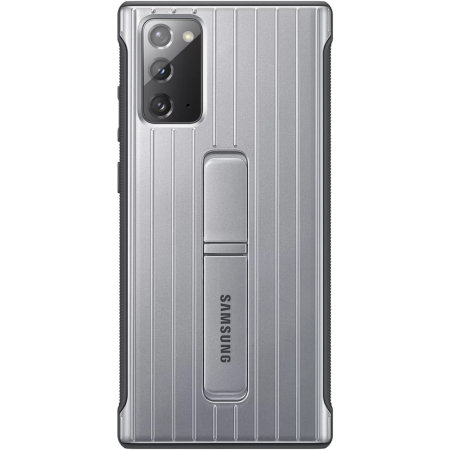 A popular case from Samsung's official case range, the Samsung Note 20 Protective Standing Case has been designed to pass military-grade certification and so you can have peace of mind that your Galaxy Note 20 will be kept safe with this tough and durable case. Unlike many other protective cases on the market, this case is relatively slim and certainly stylish thanks to it's unique design which is inspired by rugged aluminium travel cases. When it comes to functionality, Samsung have incorporated a kick stand, ideal for watching content on the go. The case is available in two colourways; silver and black.

5. Olixar Sentinel Samsung Note 20 Case And Glass Screen Protector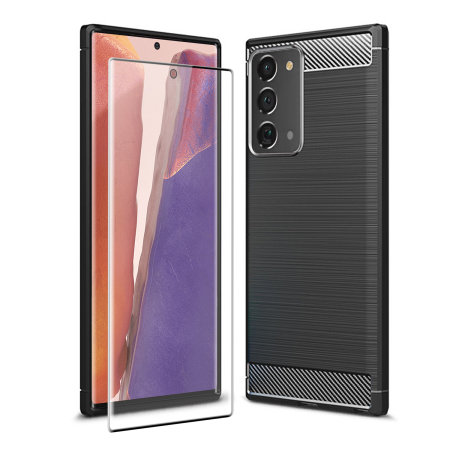 The Olixar Sentinel provides excellent value for money by combining a case with a glass screen protector for the Samsung Galaxy Note 20. The case is made from flexible yet protective TPU and notes a unique combination of brushed metal with carbon fibre style elements. Combine this with the tempered glass screen protector and you'll have full 360 degree protection for your Note 20. Most importantly, the glass screen protector is compatible with the Note 20's under-display fingerprint reader.

---
Wrapping Up!
That concludes our roundup on the best Samsung Galaxy Note 20 cases. If you'd like to purchase of the cases featured above, you can do so by clicking on the buy here buttons. Alternatively if you'd like to find out more about the Note 20, you can do so by clicking here.
---
Amit Patel