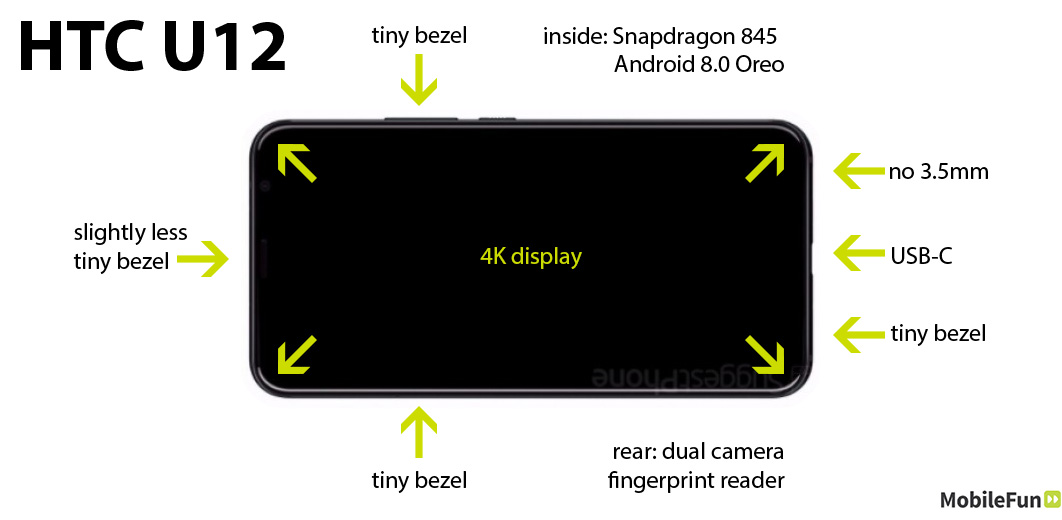 Today we got our first look at the HTC U12, which is set to come out in the first half of 2018. It should come with a massive high-resolution screen, and a dual rear camera but no headphone jack.
The leaked image (above) shows the front face of the phone, including super tiny bezels on three sides and a 4K HDR screen. That should give it a similar look to the iPhone X, depending on how HTC choose to arrange their front-facing camera and other sensors. However, the U12 should have a noticeably larger screen with a higher resolution, making it the better choice for those with bigger hands (and working better in VR, too!).
Unsurprisingly for a 2018 flagship, the phone will come with high-end specifications throughout. We're expecting a Snapdragon 845 processor inside, backed by 4 or 6GB of RAM and 64 or 128GB of storage. LTE, Wi-Fi ac and a 3300mAh battery should also be included. On the back, you'll find a dual rear camera setup and a fingerprint sensor.
One thing that you won't find is a 3.5mm headphone jack. Like last year's U11, the only port on the U12 will be a USB-C port for charging, syncing and accessories. That means you won't be able to charge your phone and listen to music at the same time, unless you invest in some Bluetooth headphones or a USB-C adapter. At least with Quick Charge 3.0, you won't have to wait long for the battery to be refilled when using a compatible Quick Charge adapter.
The phone should run Android 8.0 Oreo when it's released by May this year. HTC have previously released their flagship phones in the UK for around £700, and we'd expect a similar price for the U12.
What do you think of the new phone? Let us know in the comments below, or write to us on Twitter @mobilefun!