The LG G6, which scooped multiple 'phone of the show' awards at the Mobile World Congress in Barcelona, is coming soon to Mobile Fun — and we're happy to announce the first UK price for the G6. The G6 will be available sim-free for £699; a significant step above the price of the G5, but the upgraded specifications could prove worth it.
After going hands-on with the LG G6, I'm a believer. That super-tall 18:9 screen makes the most of a small body, while the dual rear cameras offer some unique photographic capabilities. Let's take a closer look at the phone.
Design
The LG G5 was a metal phone with a unique modular design, but the G6 is a step back towards the mainstream. We're now looking at a unibody style, crafted from aluminium, with no removable battery or replaceable modules.
Instead, LG have focused their attention on the display, which is much taller than its peers, allowing it to squeeze in a 5.7-inch display into a 5.2-inch body. It's also subtly curved in each corner, making for a rounded rectangle look that also stands up to drops better. LG also added HDR and Dolby Vision support to the screen, allowing it to look as good playing movies as your TV.
The cameras are also an area of interest, with a pair of rear-facing cameras that lie flush with the glass-covered-plastic body. That means no bump, unless you count the barely-raised fingerprint reader that lies beneath and between the cameras. The cameras both have 13-megapixel sensors, but one is a wide-angle and the other is a closeup. That provides some much-needed flexibility when shooting, even it isn't quite as cool as the Huawei P10's monochrome and RGB sensor combo.
The phone will be available in white, black and platinum colour schemes. I'm a fan of the clean white look, but I'm dreading the maintenance necessary to keep it from looking grubby!
Hardware
| | | | |
| --- | --- | --- | --- |
| | LG G6 | Galaxy S8+ | Xperia XZ Premium |
| Display | 5.7-inch (HDR) | 6.2-inch | 5.5-inch (HDR) |
| Resolution | 2880 x 1440 | 2560 x 1440 | 3840 x 2160 |
| Chipset | Snapdragon 801 | Snapdragon 835 | Snapdragon 835 |
| RAM | 4GB | 4GB | 4GB |
| Storage | 32GB / 64GB | 64GB / 128GB | 64GB |
| Battery | 3300mAh | 3500mAh | 3230mAh |
| Cameras | 13MP / 13MP / 5MP | 12MP / 12MP / 8MP | 19 MP / 13MP |
| Charging | USB-C, QC 3.0 | USB-C, QC 3.0, Qi | USB-C, QC 3.0 |
| Features | IP68 | IP68 | IP68 |
| Software | Android 7.0 | Android 7.0 | Android 7.1 |
| Price | £699 | ~£700 | ~£750 |
| Release Date | April (rumoured) | April (rumoured) | June (rumoured) |
Compared to other 2017 flagships, the LG G6 is a little behind the curve — it'll ship with a Snapdragon 801 processor, rather than the truly next-generation Snapdragon 835 processor that will debut on the Xperia XZ Premium and Galaxy S8. It's also lacking in RAM and storage compared to some phones, like the Huawei P10 Plus which boast 6GB of RAM and 128GB of storage in its most expensive model.
However, there's certainly enough horsepower here to make a super slick and responsive smartphone; what will really count is how well LG are able to optimise their software. LG say that they don't care so much about speeds and feeds these days, and there's a fair bit of evidence that consumers don't either.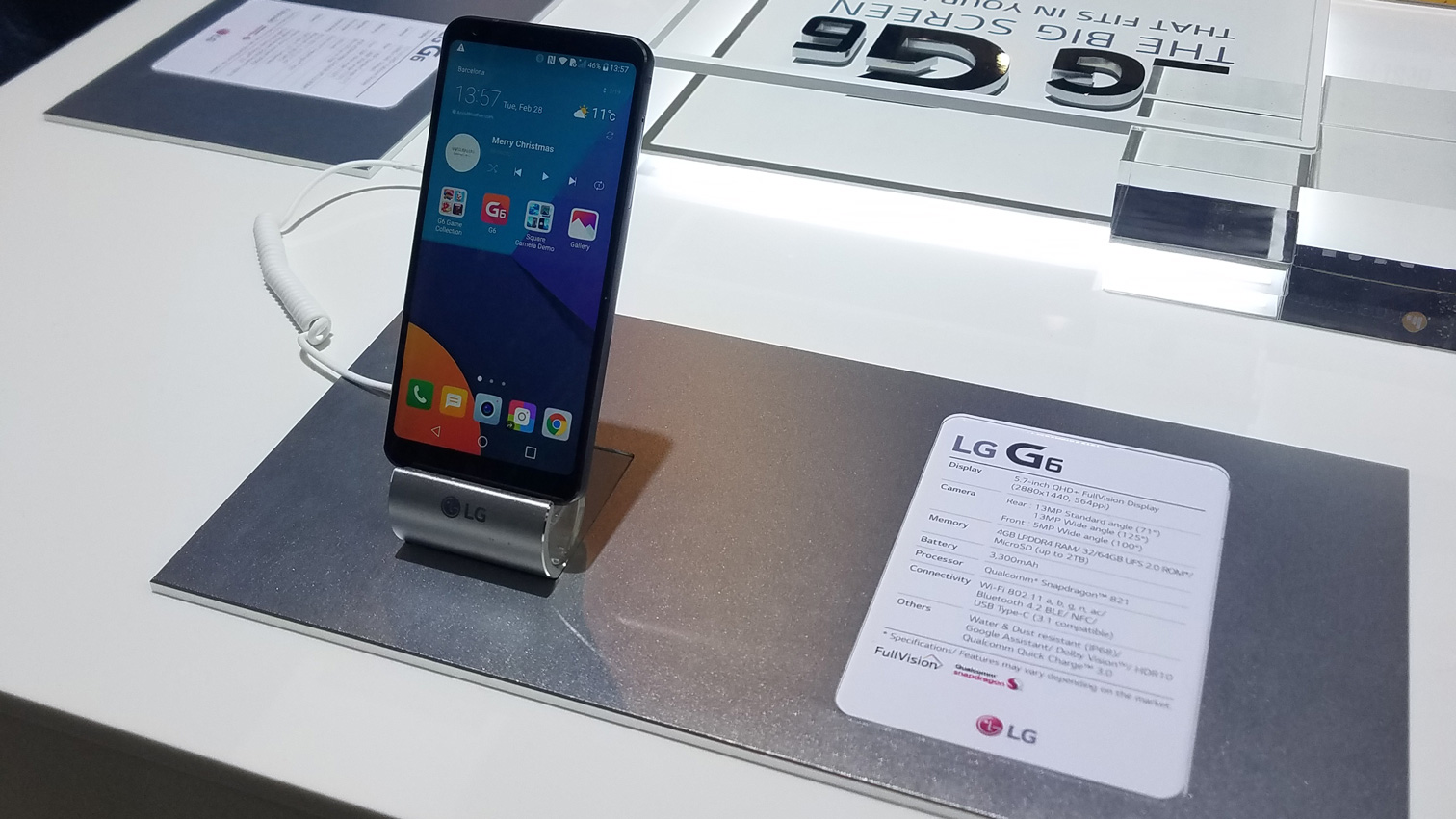 Software
LG seems to be taking a more restrained approach to software design this year, with sensible interface changes that take advantage of the larger viewport. For example, the camera app can take 1:1 (Instagram-style) photos, showing your current shot and previous shot in full quality simultaneously. You can also rapidly switch between the two rear cameras, allowing you to shoot wide scenes or closeups as necessary.
All of this will lay on top of Android 7.0 Nougat, bringing the latest features, security and other innovations.
UK price & availability
As mentioned before, the LG G6 will retail at £699. A precise release date for the phone has not been announce for the UK, but we are expecting its UK launch in the first week of April, one month after the South Korean launch and at the same time as the American launch of the phone.
Cases & accessories
The first official LG G6 cases and accessories are coming soon to Mobile Fun. For our entire range, check out the links below!
Shop LG G6 cases > Shop LG G6 accessories >
Wrapping up
The LG G6 is the most impressive smartphone to be announced so far this year, even if it likely has stiff competition in the yet-to-be-announced Samsung Galaxy S8. However, given the issues that Samsung have had recently with consumer confidence, the G6 could yet prove to be the most popular phone of the year. What do you think? Let us know in the comments below.
More LG G6 coverage? I recorded a brief hands-on video with giffgaff, available here.