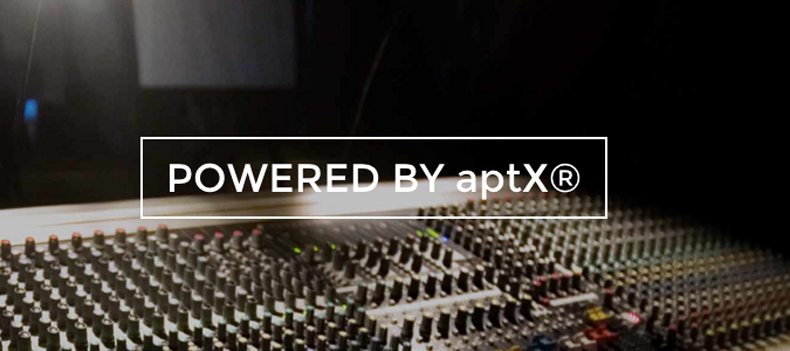 What is aptX, anyway? Most people that have heard of it know that it's a) something to do with Bluetooth audio and b) nice to have, but there's a lot more going on here than that.
In this article, we'll tell you everything you need to know about aptX — what it is, how it works and what devices it's supported by. We'll also include the latest info on aptX HD.
What is aptX?
aptX is a standard for encoding audio data (e.g. music) for transmission over Bluetooth from smartphones, tablets or computers to headphones, speakers and the like. (In future paragraphs, we'll say just 'smartphones' and 'headphones' for brevity.)
Devices use a protocol called A2DP to determine which standard to use when sending audio data over Bluetooth. aptX is one possible option; others include SBC (the default), AAC (used by Apple Music) and MP3.
Why use aptX?
Generally, aptX is held to sound better than its competitors, although this is a matter of some debate.
aptX also has less delay, so audio and video should be better synchronised. (We'll cover this in more detail later on!)
What do I need to use aptX?
Your headphones and your smartphone both need to support aptX.
Interestingly, it is possible to add aptX support to some Android smartphones that have the necessary hardware and software, but don't have the proper license to use the codec. Check out our guide to adding aptX to your Android phone to see how.
How do I know when aptX is being used?
It's surprisingly difficult to know which Bluetooth codec is being used. Sometimes you'll see a message pop up on-screen that saying that an aptX device is being used; other times it will be impossible to know for sure.
You may find it helpful to Google for aptX and the name of your device for more specific guidance.
What phones support aptX?
Most Android phones support aptX (and some phones can be upgraded to support aptX if they don't support it out of the box). The iPhone does not support aptX, preferring its own proprietary connection. Windows and Mac can support aptX, depending on the hardware that's installed.
What about latency or delay?
Using aptX also reduces audio latency. Having a bit of a delay doesn't make any difference if you're listening to music, but it's very noticeable if you're watching a video or playing a game. When using standard Bluetooth, action on screen will be visible before it is audible, and that can be annoying. By reducing the latency, you get better synchronisation between audio and video.
A variant of aptX called aptX Low Latency further reduces end-to-end latency to 32ms, low enough that you shouldn't notice delay at all. You can see this demonstrated here.
(Thanks to Dan D. for providing information on aptX latency. You can find more info in his post.)
What is aptX HD?

This new standard, announced in 2016, promises higher quality audio that is "indistinguishable from high resolution audio." Specifically, it uses a 'gentle' 4:1 lossy compression, delivering 24-bit / 48Hz audio — more than the vanilla aptX specification, which provides 16-bit / 44.1Hz sound.
That should make for a better signal-to-noise ratio at the cost of more bandwidth — 576 kbps vs 352 kbps. You may notice a difference on high-end audio equipment.
What phones support aptX HD?
So far, not many do. The LG G5 and LG V20 do, but Samsung's Galaxy S7 and S7 Edge do not.
Check using Google to see if your handset supports the standard before going out and buying some fancy aptX HD headphones. You may find it's better to wait another year or two until the standard is better supported.
How do I make my music sound better?
Read our guide: 'Audiophile: How to get the best sounding music on your phone.'
You didn't answer my question!
Sorry about that! Write it in the comments below, and we'll answer it if we can. Thanks for reading and we'll see you next time!