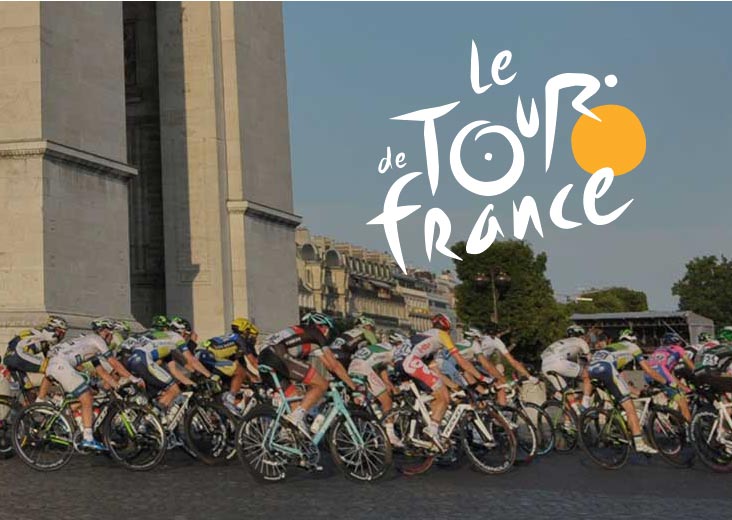 The drugs are out. And technology is in.
This year le Tour de France has truly embrassé the wonderful world of technologie.
From the bikes to the viewers à la maison, the Tour has introduced some fantastic new features, and while staunch traditionalists may say mon dieu! it's got the rest of us pretty excited.
---
For the viewers at home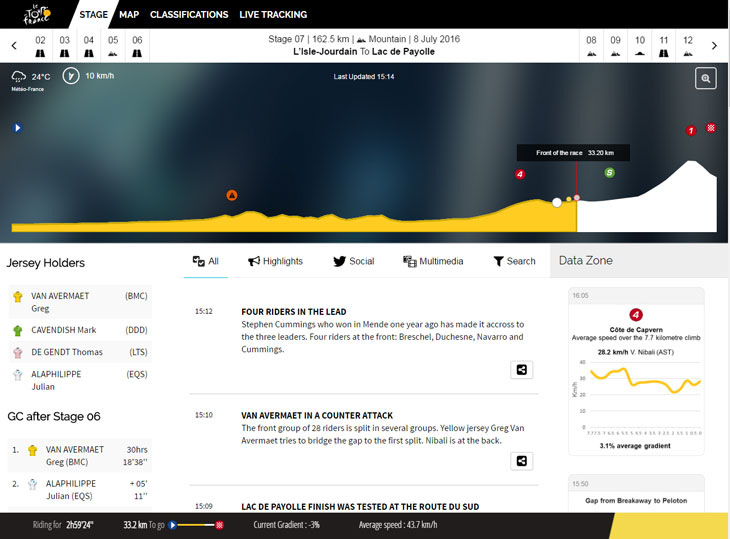 Tracking the riders
Easily one of the most exciting aspects of the 2016 Tour is the improved coverage for us at home. While the bikes have been the product of continuous innovant through the years, the Tour's tv and online coverage has been très mauvais. But now, thanks to Dimension Data, each bike will be fitted with a smart GPS device to transmit information about its rider's performance direct to us.
This real-time data will be transmitted to the Tour's website – providing an online experience better than ever before – in addition to it being beamed direct to viewers' TV screens at home …and lets face it, this is the closest Lance Armstrong is going to get to the Tour de France anytime soon!
Now with this being cycling you can expect the professional teams to harness this real-time data – carefully analyzing and strategising around it to give their cyclists the edge – increasing performance even more.
Streaming on your mobile
Whether you're at home or in the office (honte à toi!), you can track the Tour by streaming it to your mobile as well as your desktop. The ITV Hub and Eurosport Player service are just two options available. Plus the fabuleux mobile-friendly LeTour.Fr website will provide live text commentary alongside a map of each stage.
---
The bikes and riders
Thermal Imaging
Dopers beware – mechanical dopers that is – the Tour de France will be using thermal imaging cameras this year to catch anybody trying to sneakily install a petit motor inside their bikes. It may sound scandaleux, but a seat tube motor is capable of producing over 250 watts of extra power during a stage race and can seriously improve performance – making thermal imaging a welcome development for those who like to stick to the straight and narrow …which of course is the majority of professional cyclists :-!
The bikes
Bikes at the Tour de France have always been top-notch when it comes to innovant technologie. But this year the teams have taken things even further. Most notably, Mark Cavendish is riding a Cervelo S5 which has an intriguing cut-out seat tube, Enve wheels and some unique handlebars.
Unfortunately all this technology was no match for the savant llama which yet again caused chaos by stationing their ample postérieurs on the roads in the Pyrenees mountain range.
"Is that a large llama I see through the fog? Mais oui, it is!"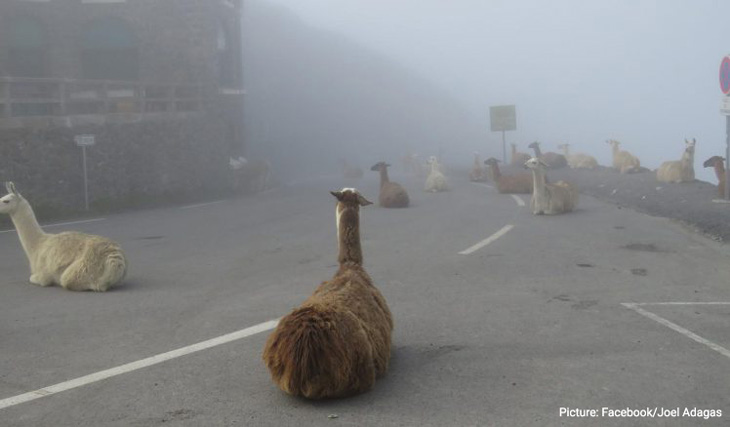 Nevertheless, it is great to see the Tour de France truly embracing technology. And as always don't be afraid to let us know what you think in the comments below. Allez! Allez! Allez!
Vive le Tour!