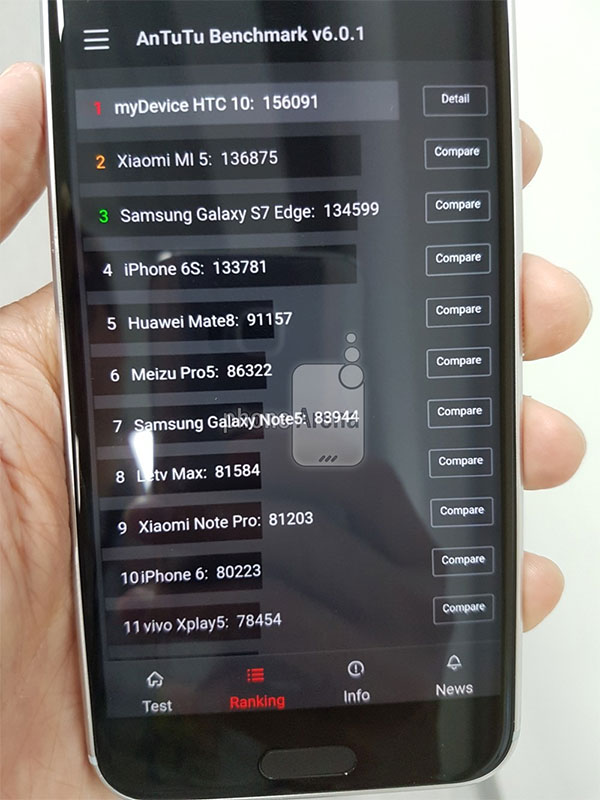 Earlier this week we talked about the HTC 10, which is due to be revealed on April 12th. The flagship phone will need to stand up to two well-received smartphones—the Galaxy S7 Edge and the LG G5—in order to find success, and help HTC escape their current pit of failure. Today, leaked benchmarks suggest that the new phone may have an unexpected strength: significantly better performance compared to other leading smartphones. Let's take a look.
The HTC 10 pictured is running the AnTuTu benchmark app, a common choice for classifying smartphone performance. The HTC 10 is shown at the very top of the ranking, with a score of 156091.
That's a full 15% higher than the Galaxy S7 Edge or Xiaomi Mi 5, both of which come with the same Snapdragon 820 processor. Either HTC are running the CPU at a higher clock rate, they've improved the phone's thermals better than their competitors, or they've improved the phone's other components to account for the difference. HTC could also be running leaner software than Samsung or Xiaomi, which could account for the performance delta too. Of course, it's not guaranteed that this score is legitimate, either—it could fairly easily be faked as well.
The photo reveals more than just the benchmark scores, too. You can see the bottom part of the phone, including a lozenge-shaped home button, and a large screen with minimal side bezels. The photo was taken with a Galaxy S7, which indicates that it's a fairly recent photo, too.
I guess we'll see whether the real HTC 10 measures up once it's announced on April 12th. Are you excited yet?!